WoW
Aug 2, 2018 11:00 am CT
Terry Crews fights for the Horde in latest episode of CelebriD&D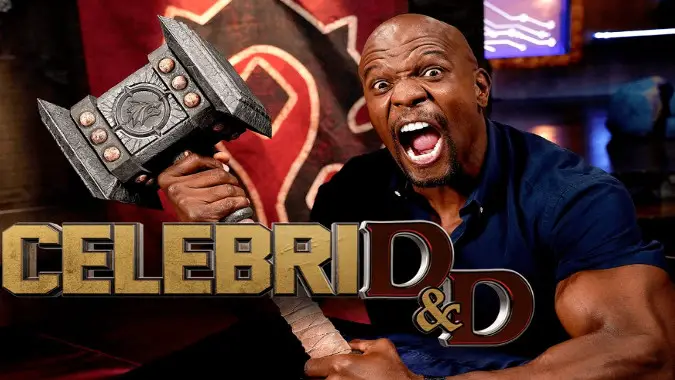 Nerdist is kicking off the hype for Battle for Azeroth with a new episode of CelebriD&D featuring none other than Terry Crews. In case you haven't seen it before, CelebriD&D is a show in which viewers can watch famous like Joe Manganiello play D&D with a bunch of other folks, many of whom you'd also recognize from stuff like Critical Role. But Terry Crews isn't the only big name involved in this episode. They also snuck in Troy Baker, Jessica Chobot, Ashly Burch and both Marisha Ray and Taliesin Jaffe from Critical Role— as well as Matthew Mercer as the GM.
In an interesting twist, this particular game splits the group up into three Alliance and three Horde. Crews, Ray and Burch are playing as members of the Horde, while Baker, Chobot and Jaffe play heroes of the Alliance. And let me say it now — watching Troy Baker (the voice of Gul'dan in Warlords and Legion) play an Alliance Priest made me cackle. You're Gul'dan! In a party with Darion Mograine pretending to be a Void Elf? Madness!
It actually ends up feeling a lot like one of those Island Expeditions we'll be playing when Battle for Azeroth comes out. It manages to keep the tension between Alliance and Horde going, and becomes a very fun PVP brawl at the end. I'm not going to spoil it for you — you should watch it for Taliesin Jaffe playing a Void Elf Rogue because that happens and it's hilarious and awesome.
But overall, if Battle for Azeroth actually comes out feeling like this, then we'll be in good hands. Maybe we can just have Matt Mercer run the whole expansion as a D&D game for us. Blizzard, seriously, it's been years since the last time you released a pen and paper companion to World of Warcraft. Consider doing it again, please?