What's your favorite moment from the pre-expansion?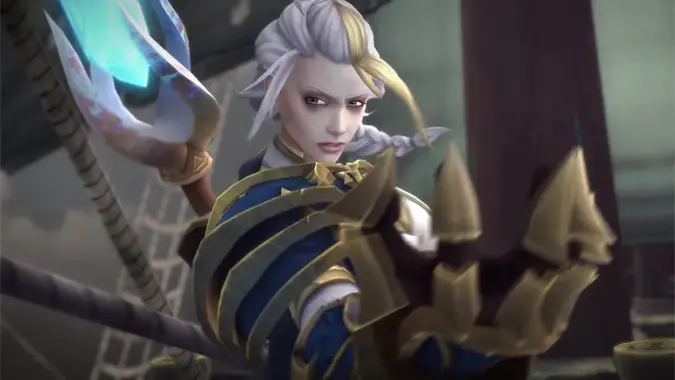 I think my favorite moment so far from the pre-expansion is Jaina riding in on a huge boat and just wrecking everything with giant ice explosions and purple zappy cannons. Even if you were Horde you have to admit that was cool. That was so cool people made memes of her coming in with The Immigrant Song playing in the background and it seemed totally appropriate. Fighting the Horde, singing and crying indeed.
There have been other moments, of course. The Horde side had a pretty solid scenario evacuating Undercity. But for me, that moment when Jaina's ship comes in, so to speak, and she just freezes all the Blight and blows the wall down to let the Alliance swarm in on Lordaeron is one of my favorites.
We've got a long way to go till the end of Battle for Azeroth. I'm sure a lot of people are pretty emotional over what we've seen so far. Whether it's a plucky Troll Shaman winning hearts or the surprising fondness I'm seeing for Anduin's horse Reverence (who I can only assume will get glowing Light wings at some point), there's a lot of things people are investing their time and energy into right now. With less than a week to go to the end of Legion and the start of Battle for Azeroth, which ones are you into?
I guess they don't all have to be feel good moments — for some, the gut punch of the Sylvanas' Warbringers short might well be that. What stuck with you guys? Was it Jaina's Warbringers short? An in-game cinematic? Did the novellas or comics grab your attention? Or was there a particular quest that really stuck with you? Whatever it is, be it funny or sad, epic or tragic, what moments have grabbed your attention and gotten you invested in the pre-expansion storyline?