Does my transmog look good enough for this raid?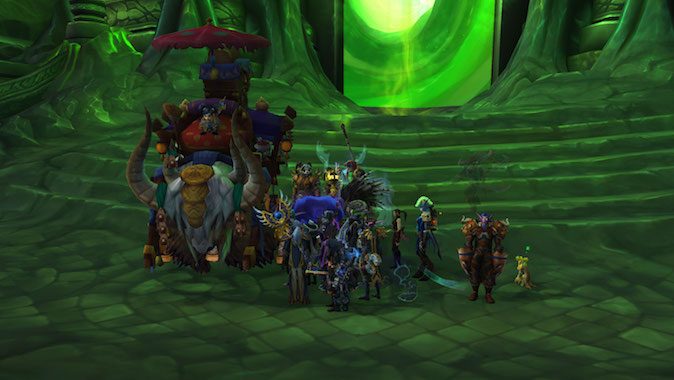 My guild has been working on mythic Tomb of Sargeras. Why? Because it's there and Kil'jaden has been mocking us. Raiding prep is the same for us as it is for any other guild running any other raid. Flasks? Gemmed and enchanted? Feasts? People practice their skills. People run content to get better gear. We watch strats. We read about the fight. We break boss fights into phases and we work on getting from one phase to another. We don't always do the boss strats — particularly older content — exactly as it was designed, but we figure out what works for us and we work week after week to learn an encounter to get a boss down.
What is also of vital interest — particularly as we have a number of highly skilled floor tankers — is how we look when we are strategically holding down the platform, tile, dirt, or other lowest point of the raid. In raids where you're not piled on top of each other when you die, what kind of gear you're wearing when you occupy your space on the ground is very important. We like to joke that we are a "hard-core transmog guild, dedicated to looking good while occupying the floor." Before our last raid last week, I spent 20 minutes trying to decide if one of my current transmog sets was suitable or if I needed a new one. We have people who come to a raid only to realize they just don't look the part. Up goes a yak and that situation is instantly rectified.
When transmog came out I wasn't sure I'd get into this but honestly, if I can't make a good looking corpse what is the purpose? So I want to know — how important is your transmog for raiding? Do you change it for every raid? If you get a drop during a raid which changes your look, do you change your mog during the raid to match your new piece? How often do you change your transmog? Finally, tell me about your current transmog. Mine is called "Blue PvP" — not that I wear it solely for PvP. It's not a set. It's just something I threw together which is predominantly blue. I'll probably change it for next week's raids. What's yours?