What are your last-minute goals before patch 8.1 hits WoW?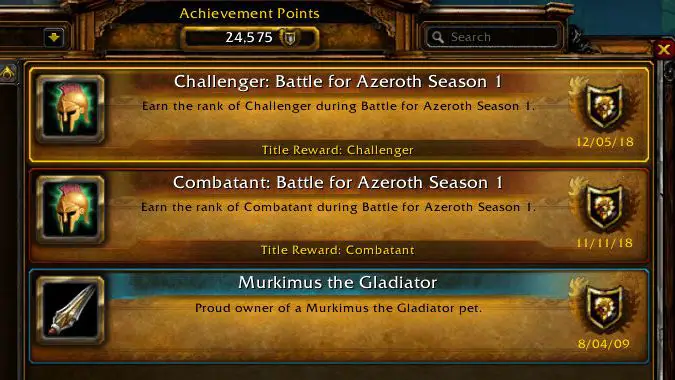 Tuesday marks the first major patch for Battle for Azeroth, and while it's obviously not as major as one of WoW's pre-expansion patches, it's still big enough that players may have some pre-patch goals to hit. For me, my two goals were to get Ahead of the Curve and an arena rating of 1,600. While neither of those things will be gone with the launch of the patch, I still had set my own goal of getting both before the patch.
Why? For starters, I didn't want to have to worry about Ahead of the Curve or raiding over the holidays. Having it done before the patch means not feeling like I'm scrambling to get it done in the new year or missing out by not raiding when I should be spending time with family. Meanwhile, the PVP changes coming in the patch aren't looking too friendly for my arena composition. Again, the PVP Season isn't ending on Tuesday, but it was a more logical goal to aim for it done before that simply because of the patch changes.
That said, I would still love to continue PVPing before the end of the Season in order to get the PVP mount. Though I don't actually see that happening — the number of games it takes to earn that thing is ridiculous, and I'm only 7% of the way there. Plus, the Horde don't exactly get a kick-butt hippo mount, so my worry about missing out on it is exponentially lower than it would be were I Alliance.
But enough about me. Are there any goals you've set for yourself before the patch? Perhaps you'd like to max your reputations before Paragon rewards hit? Or maybe you're still working on the War Campaign — either for your main faction or the other side's. And still yet, maybe you don't care or are fine waiting until Ahead of the Curve and PVP Season 1 have gone. Regardless, I'd love to hear what goals you've set for yourself, if any!