WoW
Jan 8, 2019 2:00 pm CT
Underrot Mythic +15 cleared with a party of only tanks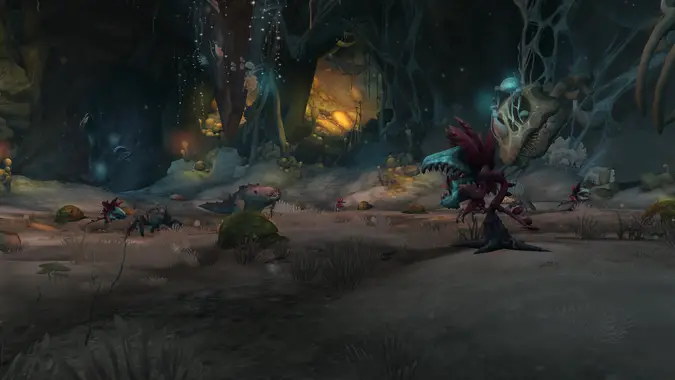 Completing a Mythic plus dungeon on time in World of Warcraft can be difficult: you're fighting some gnarly affixes that can drastically increase the difficulty, taking absurd amounts of incoming damage, and to cap it off you're racing against the clock. Over the weekend a group from the guild <sorry champ> on the Frostmourne server managed to complete The Underrot while in a group consisting of only tanks. They finished with only three deaths between them and a full minute and seventeen seconds left on their timer!  I'm astounded, to say the least.
The full group was made up of five different tank classes — Death Knight, Demon Hunter, Druid, Paladin, and Warrior — with an average item level of 382.4. Raider.io has the full breakdown of their Azerite traits and gear choices. It makes sense that this was the week they managed to complete it, since all of the affixes are fairly low stress for experienced groups. The extra enemies from Teeming don't make that much difference when you're already pulling two or three groups at once. Plus not having to stand and cast any spells means that dodging Volcanic isn't too hard — as long as you're paying attention to your feet. Most importantly they don't really have to worry too hard about those affixes during bosses.
This just goes to show you what can be accomplished when you throw more tanks at the problem. You don't have to worry about overpulling the dungeon, or not doing enough damage, or keeping yourself alive — because tanks thrive in all of those circumstances!
Watching this I've definitely picked up a couple of tricks to try the next time I'm in a high level mythic. Like pulling multiple infested monsters together. Their ability to heal with Regenerative Blood everything around them doesn't work on other infested creatures. As long as you don't mind dealing with a few extra Spawn of G'huun, you can quickly bring them down simultaneously. Seeing how they tanked Crawgmaw the Infested is going to make stomping on all of his larvae a breeze. I should've realized that pointing him at a wall would limit where they wound up.
Bragging rights weren't their only rewards — Taghorian even managed to get the rare Crawg mount from the treasure chest at the end! We've seen people like Mione set amazing records in dungeons before, but this feels much earlier in the expansion. I wouldn't be surprised to see this crew set some more tanking records before the end of Battle for Azeroth.