Blizzard is finally making high-quality art, but good luck getting any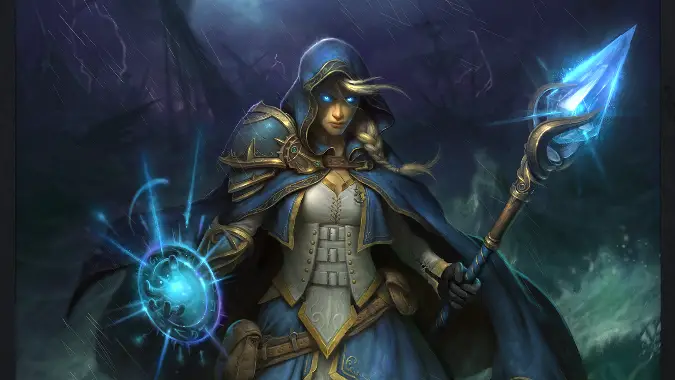 Blizzard has finally answered our art prayers by delivering prints without the obnoxious game logos that stand out like a sore thumb. Seriously, the Jaina key art from BlizzCon 2017 would have been lovely hanging up without the giant World of Warcraft logo plastered over her body, as if we don't know where she comes from. However, there's a catch. Of course there's a catch. The very first art print debuted, one of Jaina in all her Kul Tiran and Mage fury, sold out within barely an hour of its release.
With only 150 prints available in this limited edition run, it's really no surprise. What is a surprise is the exclusivity of the whole deal.
Blizzard's new "Blizzard Gallery" features a limited edition print each month of "classic and iconic images from Blizzard's game library." Each run is limited to 150 numbered prints, assigned at random to those who manage to purchase any. Some prints are signed by the artists (Blizzard only specifies "select prints" on the page). The art pieces themselves are 16 x 20 inches, printed on giclée paper. They're matted as well, meaning they are surrounded by a mat of heavy paper to enhance the art and protect the print from glass, bringing the final framing size to a standard 20 x 24 inches.
It's a nice endeavor and obviously a popular one, but the exclusivity of the whole thing doesn't make much sense. It just smacks of artificial scarcity, building a higher demand when it's already very popular. It's not like there is much going into these prints anyway. Giclée is pretty standard as far as art prints go and even the matting is pretty basic — it's standard to add when getting prints framed. Having spent yesterday getting quotes to frame a few art pieces printed on giclée, I can attest to that.
All in all, the pieces put forth by the new Blizzard Gallery are nice, but nothing particularly special as far as being high-quality or physically unique. These prints could easily be reproduced if Blizzard so desired. It would be wonderful to have higher-quality Blizzard art other than the logo-covered key art posters, but apparently only 150 people will be able to have that.