Diablo 4 introduces mounts to navigate the open world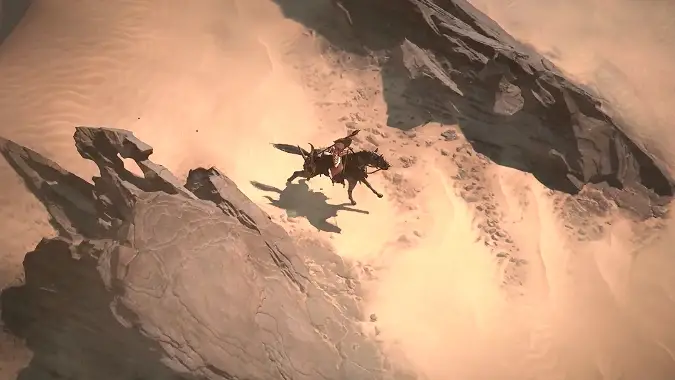 Many awesome bits of news came out of the Diablo 4 announcement yesterday, but one tidbit that game team touched on could become a important gameplay shift: mounts. Mobility was boosted in Diablo 3 by the Core Paragon option for movement speed, but there is a 25% hard cap to the property. Maxing out movement speed paragon points effectively nullifies any base movement speed stat increases from gear.
There are only a few details on D4's mounts so far, but we know they'll be a strong boost to the player's quality of life in the new open world, really opening up the opportunity for exploration. How better to appreciate the gorgeous scenery and murderous demons than on horseback?
The second piece of good news is that you will not need to rely on that mount to escape said demons (unless, of course, you want to). Each class will have a dismount ability, allowing them to transition into combat. Can you imagine a Barbarian leaping off their mount and creating a shattered crater on landing? Poor, unsuspecting demons.
The third emphasis from BlizzCon day 1 was on mount customization. The concept art featured flaming, rotting, and armored horses as base examples, but the armor part is significant. Players will be able to customize facets of their mounts such as armor, saddles, and trophies. Some of these changes will provide boosts to the mount's capabilities, and some will be purely cosmetic. Community members are already questioning the cosmetic choices following the on-stream confirmation of micro-transactions in D4, but it's still going to be an interesting new change to the franchise.
Overall, mounts are an exciting addition to the game. They will draw emphasis to the new environment, especially seeing more of the changes as the player transitions from region to region. While folks may question the motives behind the addition, it's hard to deny that mounts will be useful and look stunning. Let's just hope that those awesome looks won't cost us, as well.