Diablo Immortal showed off some minor updates at BlizzCon, but still doesn't have a release date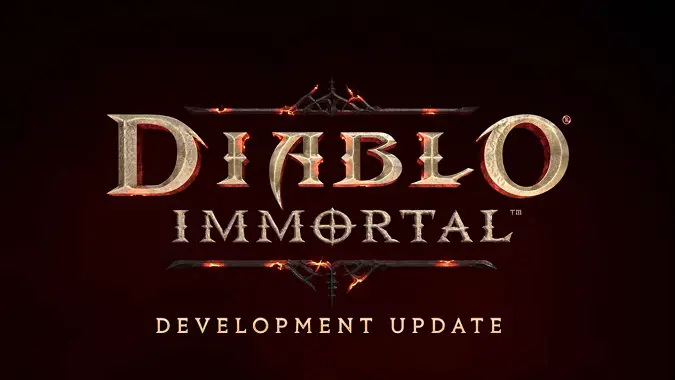 One title conspicuously absent from this year's opening ceremonies, and indeed from the entire BlizzCon schedule, was Diablo Immortal. Announced as the key new product at BlizzCon 2018, the mobile title attracted a broadly negative reaction from a community that had been first told to get hype but then promptly to rein it in. This was accompanied by a disastrous sequence of events during the Q&A where the project's head, Wyatt Cheng, was asked point blank if the announcement was an out-of-season April Fools joke.
Likely hoping to avoid a similar embarrassment this year, Blizzard instead led their opening ceremonies with the long-anticipated Diablo 4 reveal. While Diablo Immortal was still playable on the floor, no updates about it were given on any stage: indeed, all we have to go on is an unnarrated development update video and a blog post, both quietly posted yesterday.
New content in the show floor demo includes:
New zones: Wortham, the Dark Wood, Tamoe Mountain, and Ashwold Cemetery
The Demon Hunter class (which was in last year's reveal video but wasn't playable at the time)
The "Haunted Carriage" World Event
Legendary items that alter individual skills in explosive ways
Ultimate abilities, which are charged up via using basic attacks and temporarily allows those attacks to become remarkably more powerful
One noticeable change since last year's gameplay demonstration is this: while no other classes have been announced, the new gameplay trailer made very clear the new gender-swapped versions of most of the playable classes are being added. In keeping with the specific timeframe of Immortal — situated after the events of Diablo 2: Lord of Destruction and before Diablo 3 — these appearances are all distinct from the Diablo 3 classes, though the silhouettes are familiar enough that it should be clear who is who at a glance. This is both in-line with D3's original decision to include both genders of all classes and with D4's decision to support even broader character customization with playable heroes.
As a brief aside, one thing I hope that Immortal is able to answer is about the fates of the heroes who aided Tyrael in Diablo 2 and Lord of Destruction. The Sorceress Isendra went on to train the Wizard in D3, while Xul the Necromancer and Cassia the Amazon, despite not appearing in D3, made the jump to the Nexus in Heroes of the Storm. However, that leaves several other heroes (the D2 Barbarian, Paladin, Assassin, and Druid) whose journeys are as yet unknown.
As it stands, it sounds like the Immortal team is keeping their heads down so that Diablo 4 can get all of the attention it deserves, while they continue working to polish Immortal to make ready for a release. It's also possible that they are sitting on the game's release for a while longer in order to let all of the bad PR from the recent Hong Kong controversy fade into memory: it's common knowledge that Immortal is being produced in conjunction with Netease, Blizzard's partner in China, and that the game is certainly intended to make a big splash in the broader Asian market. Blizzard choosing not to make those overtures so soon after their most recent problems is a cautious choice, but very likely the right one.
Still, we're a year out from Immortal's splashy announcement with very little to show for it, and we have to wonder where Diablo Immortal is — and when we'll get a chance to play it.