Enjoy the world-shattering return of the Overwatch Yule Log, now live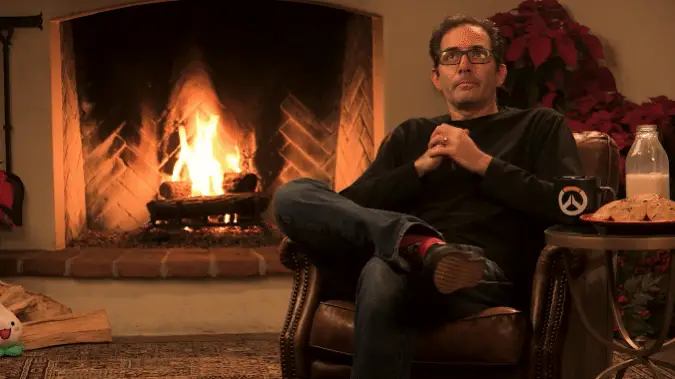 Update: The stream is now live, so it's time enjoy the adventures of Jeff sitting in front of a fire for eight hours.
You remember it from 2017, when our favorite Jeff from the Overwatch team made his debut sitting in front of a Yule log for a stream of pure holiday bliss. And in 2018, Matt Mercer, the voice of McCre himself, did his time in the chair before the might of the flaming Yule log. It's become something of a holiday tradition, and it's one we're all glad to see continue, as we now know for sure that there will be a return not just of the festive flames of Yule but of the one, the only Jeff Kaplan to the stream.
Of course, this just raises further questions.
Will Jeff be the only one to sit before the blaze of festivity?
Will there be guests?
What brought about Jeff's return to this, the most august and sensational of all holiday celebrations, this potent blaze of power, this majestic magnificent log of Yule? Why the return? What has Jeff learned after a year away from the chair? What mysteries might he impart to us? Shall we gaze into the blinding holiday delight until it has consumed us and made us wholly new again, embraced as never before in this elemental wonderment?
I mean, probably not.
It's probably just gonna be kind of weird and funny. Jeff sitting there and occasionally doing something while we all watch and wait. Maybe he'll have to change the log from time to time, I really am not sure. But I'm still pretty stoked for it — I like when there are new traditions that arise and become celebrated and Overwatch is a pretty good place for these new traditions to arise. I probably won't watch the whole thing — there's food to eat, y'all — but I'm definitely down for the greatest hits videos afterwards. And oh, the memes are going to be amazing.
So tune in now to watch Jeff Kaplan's triumphant return to the Yule log.
Watch live video from PlayOverwatch on www.twitch.tv