WoW
Jan 24, 2020 10:00 am CT
Blizzard hotfixes Infinite Stars and other Corrupted Item traits to bring their damage down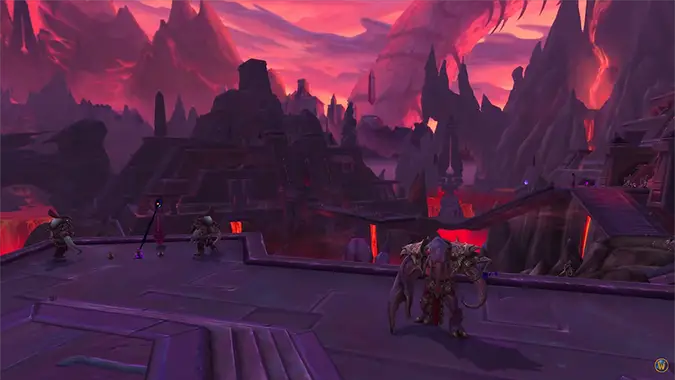 The way Corrupted Items are supposed to work, there's an intention that you'll always balance your Corruption against the benefit a specific item or trait will bring you, looking for ways to keep your Corruption low enough that you're not blowing up your raid while you also blow up the monsters. A recent hotfix has been deployed because certain traits like Infinite Stars were so strong that they became all you needed — you no longer had to balance the idea of how much Corruption was acceptable, you'd just stop as soon as you got one of these jackpot abilities.
With a hotfix that is now live on all realms, we've adjusted the damage done by several Corruption Effects:
Damage dealt by Infinite Stars, Twisted Appendages, and Gushing Wound is now based on the item level of the Corrupted item. This previously scaled dynamically with Attack Power and Spell Power.
Lash of the Void damage is now based on the item level of the Corrupted Item, and now procs less often than before.
Previously the damage dealt by these powers was modified by Attack Power and Spell Power, which meant that certain specialization abilities or random bonuses could cause drastic swings in their effectiveness. Infinite Stars in particular was too strong against single targets as a result of this and other factors.
This change also adjusts Infinite Stars base damage accordingly, as the scaling method was one of the primary factors behind some of the extreme outliers we saw in our logs and from player feedback. Our goal with this change and other adjustments to Corruption powers is to improve parity in the effectiveness per point of Corruption of the different bonuses available on Visions of N'Zoth items.
In essence, while the forums can't seem to agree on just how OP Infinite Stars is — especially when its massive 75 Corruption cost is taken into account — for a lot of players getting an item with Infinite Stars on it basically meant either eating the Corruption spike or simply wearing that item and cleansing everything else. It was a leading cause of people pushing Horrific Visions as hard and fast as they can since the Corruption resistance on the Legendary cloak was one way to get Infinite Stars into your Corruption budget. People have reported 30k or more DPS from Infinite Stars, and Blizzard specifically mentions how it was doing a bit too well on single target, due to how it scaled with AP/SP and for other reasons.
I'm not sure that switching the scaling to be based off of item level instead of Attack Power is going to fix things so much as it'll make people always pick the item with the highest ilevel, which they were going to do anyway — it means that the disproportionate power of these abilities will be less on current gear and more on better gear as people collect it. The initial post claimed that Infinite Stars will be nerfed by 25%, but that feels like it'll be a nerf on current players, and players who get into Mythic raiding or max-level Mythic +/ Horrific Visions may well still end up with ludicrously powerful Infinite Stars and other traits.
But if nothing else, this nerf will fix the problem permanently, or it'll be a band-aid fix that requires more nerfs down the road. Either way, something really did have to be done to keep these abilities in line so that people actually had decisions to make about how much Corruption to allow.