Which other classes do you want, or expect, in Diablo 4?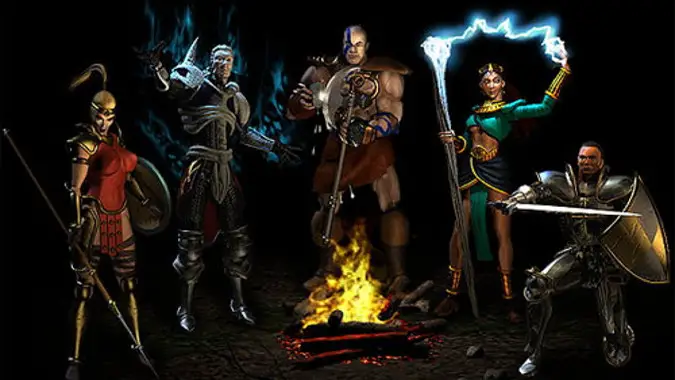 Barbarian. Sorceress. Druid. We already know three classes that will be included in Diablo 4 — whenever that game comes out (spoiler alert: not anytime Soon™). What we don't know yet is which other classes will be included. Because let's face it: the chances of that game only having three classes — and no bow-wielding or pet summoning archetypes, two staples of the franchise — are slim to none.
In order to find out, we should examine the past. Every Diablo game so far has included a big burly warrior (check), a spellcaster (check), and a physical ranged class (still missing). What have we had for physical ranged classes? The first game had the Rogue, the second game had the Amazon, and the third game had the Demon Hunter. Personally, I love those last two, and I hope the game includes both — the Amazon could be more focused on javelins, combining ranged combat with melee attacks, while the Demon Hunter would be fully-ranged, keeping enemies away with traps. There are enough differences between the two, I feel; and we do have a precedent: Diablo 3 had both the Witch Doctor and the Necromancer filling the "pet summoner" archetype.
And speaking of the Necromancer… that one is, by far, one of the most popular classes from the franchise, and one that many players love. I'd be surprised if we didn't see it return. They did experiment with adding the Witch Doctor to "replace" it in Diablo 3, at first, but fans still cried out for the OG Necro, and Blizzard felt the need to deliver. I assume they won't make the same mistake again.
Finally, the other super popular archetype I can think of is the "holy warrior." Diablo 2 had the Paladin, Diablo 3 had the Crusader. They're only really different in name, to be frank — although they might have different skills, there are far more similarities than inconguences between them. Maybe one of the two will return, or maybe they'll add something like a "Templar" to fill that role. We could also see a return of the Monk — a whole other variation on holy warriors — but I don't see Monks replacing the armored knight types; maybe being added besides them.
What do you think? Are there any classes that you really want to see make a comeback? Do you miss any classes in particular? Would you like to see your favorites return, or would you prefer to see brand new archetypes, or new takes on the existing archetypes?