WoW
Jul 8, 2020 12:09 pm CT
Shadowlands introduces the Renown system to Covenants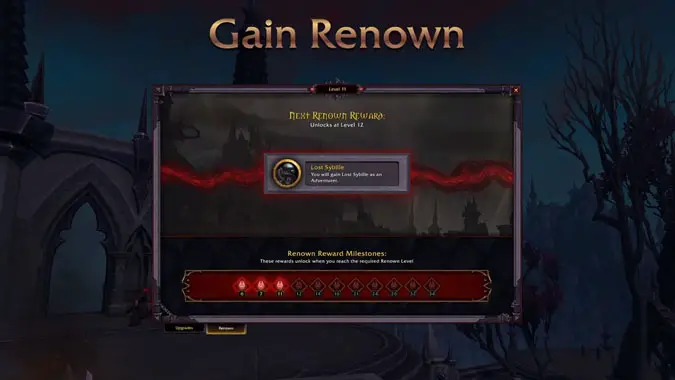 With the Shadowlands beta coming soon, characters will be able to reach the max level of 60, unlocking access to a whole set of new endgame systems. We found out today in the Shadowlands Developer Update that one of the new systems for Covenants is called Renown.
You can think of Renown as a sort of battle pass system for each of the four Covenants. As you choose the Covenant your character wants to align with, you can slowly gain Renown with them which unlocks new features and rewards — including cosmetics! Currently, the only way to increase the Renown level is by collecting anima, but since this is the alpha everything is subject to change.
Personally, I've hated grinding things endlessly so I was relieved to hear that the Renown system isn't an open-ended grind. There will also be a catch-up system for Renown. In the developer update, they said this catch-up will be intended both for players who start off the expansion late, and those who want to represent one Covenant but then decide to switch to a different one after a few weeks. While you would have to start all over from having no Renown with your new Covenant — just because the Kyrian know who you are that doesn't mean the Night Fae do — it should be easy enough to catch up in progress to where you were in the previous one.
At first glance, Renown sounds like a fun system that isn't a complete requirement for character power progression. If the plan is to keep it in place to unlock new transmogs, mounts, pets, or ability cosmetics, I will be all for it. If Renown is used as a gate for outright new abilities or even potential gear advantages, I might need to revisit my stance — and my Covenant, to start grinding out my Renown.