The Gates of Ahn'Qiraj opened in WoW Classic… and C'Thun was defeated less than forty minutes later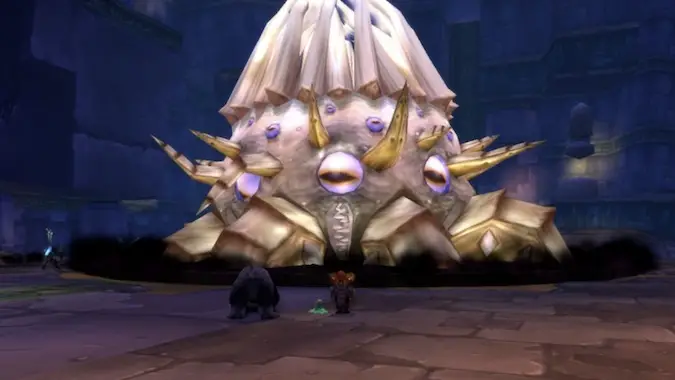 WoW Classic has just reenacted one of WoW's most memorable world events: opening the Gates of Ahn'Qiraj. The gong was rung and the bugs swarmed over the sands of Silithus. For ten hours the combined forces of Azeroth battled them back to the gates — or fought amongst themselves in Tanaris. Once the dust settled it was time for the most fearless of players to start their grueling assault through the depths of Ahn'Qiraj to stand face to giant eyeball with the Old God C'Thun. A grueling assault that lasted all of… 38 minutes.
Congratulations to Onslaught on the Skeram server for being the first guild to kill C'Thun on North American servers. They weren't the first North American guild to clear the whole raid though: that honor goes to Rise on the Netherwind server. Onslaught wound up skipping the four optional bosses and rushing right for C'Thun. When they went back to clear the bosses they missed, they wound up wiping to Viscidius and losing a lot of time when they had to leave the raid to go get refresh their world buffs. Which let Rise make up enough time to clear the whole thing. I was kind of hoping that for the first day, the version of C'Thun that they fought would be the original "mathematically impossible" version — but that would have been a little mean.
These blistering fast clear times aren't new either. Ragnaros in Molten Core and Onyxia both fell only five days after the launch of Classic. While Blackwing Lair was cleared in just 42 minutes, with Nefarian falling to a pair of guilds at the exact same time. We know all of the strategies, have better computers that can actually handle forty players onscreen at once, and have the gear and talents from patch 1.12, so players have had to find new ways of proving their mastery. Speedrunning has become the true test of a guild's prowess, and with the bar already set at 38 minutes to get to C'Thun, I can't wait to see how fast it can get. Molten Core was done in 22 minutes, and Blackwing Lair can be completed in 20:30 — will we see a sub 20 timer for Ahn'Qiraj?
There's only one major event left for the Classic crowd. The dread citadel Naxxramas is coming: will Kel'thuzad survive longer than the first hour? Who will be the first player to complete Atiesh? We'll have to wait and see. In the meantime, there's a giant eyeball who could use a few more pokes — just in case it's not really dead.