What should it take to become a Guide in WoW's upcoming Mentor system?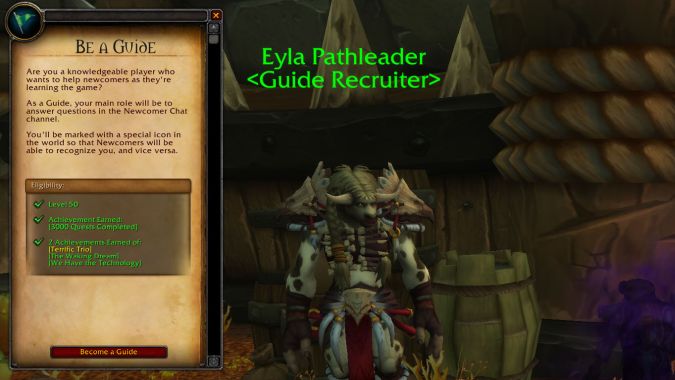 Recently, Blizzard added a Guide Mentor system to the Shadowlands beta. For anyone who's played Final Fantasy XIV, this probably sounds a little familiar, as that game's Mentor system is almost definitely the inspiration for WoW's. The idea behind both systems is that experienced players will be marked as Guides and serve as the go-to source of information for newer players who might not know their way around the world.
At the moment, the requirements for becoming a Guide are as follows:
Be Level 50
Complete the achievement 3000 Quests Completed
Complete at least two of the following achievements:
Keeping in mind these might be designed around the pre-patch and not Battle for Azeroth content, we can still get a solid idea of what Blizzard's looking for in its Guides: Being max-level, questing a lot, and completing at least two high-difficulty/time-sink activities. I include "time-sink activities" in that because having three classes at max level or completing the Titanic Research both aren't necessarily difficult so much as they require dedication. Although, according to Zorbrix, the system is aimed at players who have "some" experience and familiarity with max-level content.
That said, I still have to wonder how others feel about them. The first two seem fairly obligatory (which is fine), and the last bit is certainly aimed at making sure Guides really know their stuff. But I wouldn't mind it if the Guide system had a way to differentiate between PVP and PVE guides, or possibly a requirement to be knowledgeable with all three roles you can play in the game. I'm also a bit mixed on having the "raid" requirement be earnable in LFR. I get it, mind you, but I'm wondering if a Normal-difficulty minimum would be better here.
Overall, though, I like the system and think the requirements could certainly go live as is. But since they're not live yet, I still want to know — what do you think of the Guide requirements? What would you change about them, if anything?