The BlizzConline panels we're excited to watch that you may have missed
The official BlizzConline schedule has been published, and while there are fewer sessions than we typically get during the in-person BlizzCon, there's still a lot to be excited about. Perhaps in anticipation of the forthcoming Diablo Immortal — as well as confirmation a new Diablo IV class will be announced — we're getting a What's Next, a Deep Dive, a Developer Roundtable, and a Q&A for the franchise, a quadruple-header usually only reserved for World of Warcraft. WoW itself of course will have its standard array of sessions, and Hearthstone will spend considerable time talking about the recently announced changes.
While I'll be glued to the screen during those sessions, I have to admit that I was concerned that an abbreviated schedule wouldn't have the typical array of smaller sessions that I've come to enjoy the most: the creative panels. Thankfully, the switch to an all-online event has not eliminated them, and in some cases may have given us longer, more-involved sessions to experience.
Voice actors are going to get plenty of spotlight, with Overwatch and WoW voice actors both getting 80-90 minute sessions on the first day (5:50 p.m. CT and 6:20 p.m. CT, respectively). While I'm less confident we'll get to see Patty Mattson take over the hall like she did in 2019 with the Reckoning cinematic recreation, I can't wait to hear what they have in store for us. Continuing Diablo's move into premier coverage, we get a shorter session with Michael Gough, the voice of Deckard Cain, on Friday as well (5:50 p.m. CT). Even Hearthstone is getting in on the action, with a short 5-minute session featuring Terrence Stone (voice of the Innkeeper) judging fan impressions of the character (Saturday 4:05 p.m. CT).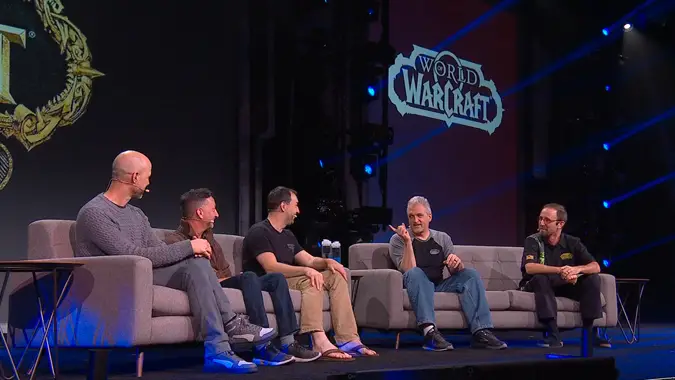 Arts! Crafts! Vikings?
Artists get their due at BlizzConline as well, with once again Diablo a primary focus. On Saturday there's an over two-hour presentation scheduled to show the creation of the Hive Mother from beginning sketch through completion (4:05 p.m. CT). There will also be a sit-down interview with the artist Brom to discuss his influences and his contributions to the Diablo franchise (Friday 6:40 p.m. CT).
BlizzConline isn't ignoring those crafts many have been doing while stuck at home these past few months; Soe Gschwind, host of the Overwatch League show Watchpoint, will be showing us how to craft our very own Pachimari using modeling clay on Saturday (5:05 p.m. CT). If you work up an appetite while watching the panels, there's a Cooking Workshop hosted by Chef Lulaboo on Saturday as well (5:15 p.m. CT).
One last panel we can't wait for is almost buried at the end of the day on Friday but should not be missed by any Blizzard fan — "Where It All Started: Blizzard's Early Years" will air at 7:20 p.m. CT and promises a behind-the-scenes look at the making of the early games that led to Blizzard Entertainment's creation. I'm personally hoping we get to spend a lot of time with the Lost Vikings during the show.
BlizzConline begins on Friday, February 19th at 4 p.m. CT, and is free to all viewers.
Originally published 2/11/2021. Updated 2/19/2021.