The must-watch BlizzCon panels you missed this weekend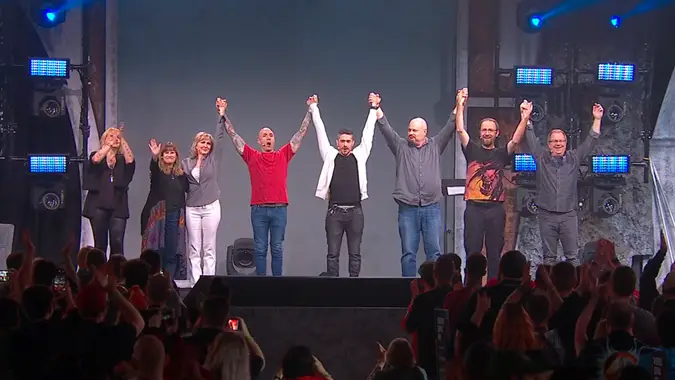 Besides all the big announcements and mechanics deep dives, BlizzCon also features panels that are creative and fun to watch, but not necessarily important as far as big news goes. Here are some panels you might have missed in the whirlwind of BlizzCon news that you should definitely see, because they're so entertaining.
Voices of Azeroth: A Hero's Journey
The voice acting panels are some of the best panels at BlizzCon. Last year we got to hear Laura Bailey sing "Daughter of the Sea" live. This year we got to see behind the scenes footage of Chris Metzen and Andrew Morgado act out Safe Haven in an improv session, and listen to a couple of their bloopers as well. The Voices of Azeroth panel was hosted as usual by Andrea Toyias (Senior Casting and Voice Director) and it featured Marc Messenger (Cinematic Director, Story & Franchise Development), Christie Golden (Senior Writer, Story & Franchise Development), and Steve Danuser (Lead Narrative Designer, WoW) on the production side, with voice actors Patty Mattson (Sylvanas), Josh Keaton (Anduin), and Andrew Morgado (Saurfang), plus a cameo from Cinematic Project Director Terran Gregory reading Thrall's lines in a live re-enactment of the Reckoning cinematic. And really, Darin De Paul needs to be in every panel, even if it's just a cameo of him screaming "BUTTONS" in a German accent and throwing buttons at fans.
Honestly, around here we adore the voice actors for Blizzard games, so we'll take any excuse to watch them talk. It's always great to hear the voice actors and everyone involved discuss the process and how they feel about their characters. It gives us a look behind the curtain to see how some of these cinematics are made. They also acted out some of the cinematic scenes on stage. And gosh, Patty Mattson makes us feel those lines.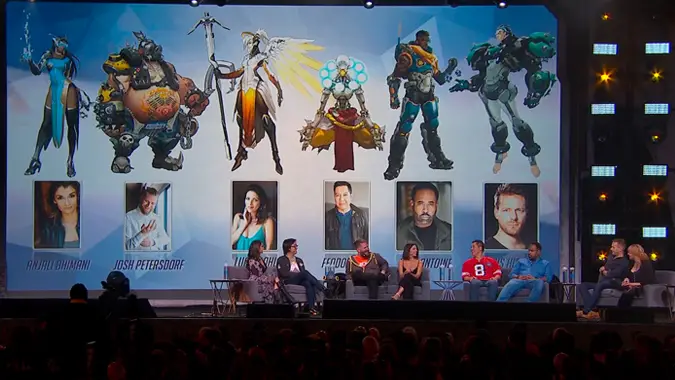 Voices of Overwatch
Overwatch also had a fantastic voice acting panel. Once again hosted by Andrea Toyias, and once again featuring a quick cameo of the wonderful Darin De Paul throwing buttons at people. Unfortunately he didn't stay for the panel, but we got to see Michael Chu (Lead Writer), Anjali Bhimani (Symmetra), Josh Petersdorf (Roadhog), Lucie Pohl (Mercy), Feodor Chin (Zenyatta), Benz Antoine (Baptiste), and Boris Hiestand (Sigma).
And also, once again, it's amazing to hear the voice actors talk about the characters they play and how they came up with the voices for them. Like Anjali channeling her inner "Indian Auntie" or Benz trying all his life to escape his French accent only to be hired for it. They discuss the challenges when recording and needing to get into character, as well as how they get into their characters' heads. At the end of the panel, they read each others' lines in their characters' voices. Watching Anjali excitedly call dibs on Roadhog's lines and hearing Mercy talk about bacon is something else.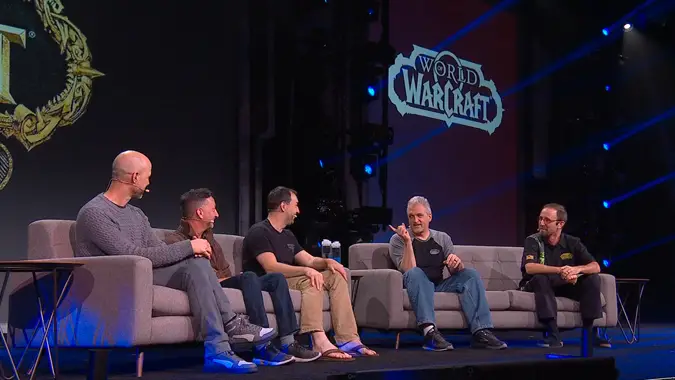 World of Warcraft: Developers' Tales
First of all, this panel opens with a great cinematic celebrating 25 years of Warcraft and WoW's 15th anniversary. You should watch it for that alone. The panel is hosted by Ely Cannon (Art Director, WoW) and features a host of developers on WoW: Gary Platner (Principal Exterior Level Designer), Morgan Day (Lead Game Designer), Monte Krol (Lead Tools Programmer), and Terran Gregory (Cinematic Director).
They share stories of how they got started, including the very early days of Blizzard and working on WoW. It's a great look into the insights of how WoW was built early on and even now. We get to hear tales like building the world in inches then converting to yards because it was too glitchy, creating the Wrathgate cinematic using QA testers playing the characters, and "vehicle abuse" by designers using creative solutions to get stuff to work.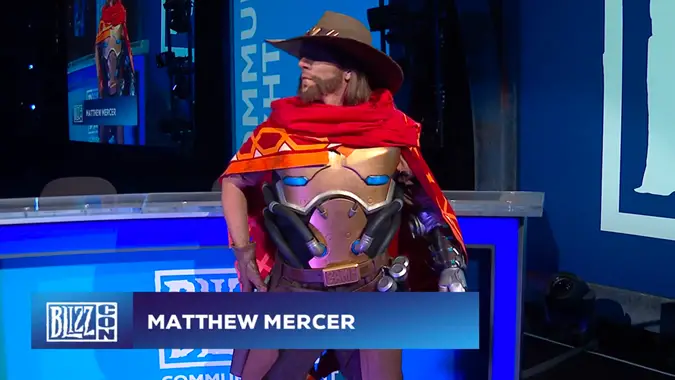 And there's more!
There were more panels that were interesting to see behind the curtain, such as "The Writers Room: Building the Worlds of Blizzard" and "Stay Awhile & Listen" where you can see how Blizzard crafts its stories. If you're into art, the "Artists at Work" panels for each game are worth a watch. "CodeCraft: Exploring Blizzard Engineering" is also interesting from a technical standpoint. And if you love Darin De Paul as much as we do (and Matt Mercer and Laura Bailey!) make sure to watch Community Night with all the cosplay and talent entries. That one alone is worth it to see all the amazing creations fans come up with.
Don't worry about rushing to watch these if you missed them this weekend. Video replays of the panels will be available until March 31, 2020. And if you hadn't picked up a Virtual Ticket yet, you have "quite some time" after BlizzCon or "maybe a little while afterward" where it will be available, but definitely not as long as long as the VODs will be up. ince there is no official end date, I'd buy it sooner than later if you want to watch all the fun panels and get your virtual goodies.