The Wandering Ancient mount starts to appear in World of Warcraft, releasing over the next few days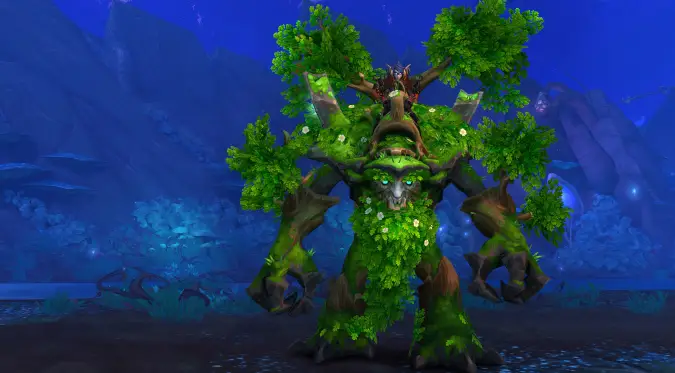 It's a giant walking tree whose leaves will change depending on the season — and it's also the newest World of Warcraft mount. With patch 9.0.5, we'll begin seeing it in-game, but at the tail end of maintenance, they put out an announcement that the mount's release will be staggered over "the next few days" for all eligible accounts. It might be a good idea to cross your fingers or whatever particular superstition floats your boat that yours will be in a sooner group rather than a later one.
I don't see much benefit in beating around the… bush? Is that too much of a dad joke? Well, nevertheless, if you'd like to take a peek before you get yours, Blizzard put up a preview of this mount, the result of last year's community poll. Blizzard asked us, the players of World of Warcraft, to help them decide which of four options to make into a mount and the Wandering Ancient won the contest despite some spirited campaigning for other options. The Nerubian Swarmer, Gooey Slimesaber, and Curious Caterpillar ended up laying defeated in the vote by this mount, and Blizzard showed us the process of making the mount at a special panel during BlizzConline.
They even made sure the tree changes for the seasons!
Unique to the Wandering Ancient, this mount changes with the season. 🌳 ☀🍁 ❄ pic.twitter.com/6aRsXMP0O4

— World of Warcraft (@Warcraft) February 20, 2021
I'm personally very glad that the Wandering Ancient beat the giant ooze cat and other options, because I'm super excited to ride around in the branches of my giant tree friend and do impersonations of Treebeard from the LotR movies. And getting to watch the process of making it, seeing how Blizzard goes about designing a mount, that's really cool as well. It's a behind the scenes on an aspect of the game a lot of us take for granted  — even though we collect mounts and make what we're riding a big part of our gameplay, we don't really know much of anything about the design process. Game design is interesting as it is, but getting to watch the nuts and bolts of how we got from a fun community poll to a working giant tree mount? That just sounds fascinating to me.
If you're interested in getting to see how your new giant tree friend came to be, you can also watch the VOD of the BlizzConline panel where the process of making the mount come to life was detailed.
I'm just so glad I won't be riding around on a giant ooze cat, or inside one, or whatever.
Originally Posted 2/19/2021. Updated 3/9/2021.