Community plans to protest during today's Activision Blizzard earnings call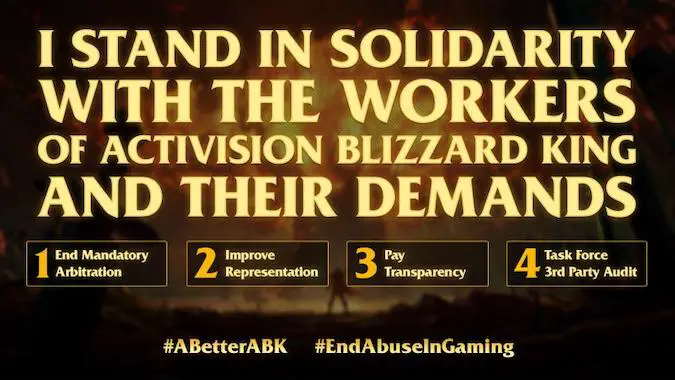 The quarterly Activision Blizzard earnings call, where the company reports to its shareholders, is happening today, Tuesday, August 3 at 1:30pm Pacific. These calls exist primarily to convey financial performance results from the company to its stockholders under the ATVI stock symbol in the NASDAQ marketplace — but the company is currently in some hot water, not only because of the sexual harassment lawsuit, but because it never informed shareholders about the state of California's two-year investigation. We may hear more about the company's response — at least in how it affects share prices.
With the community outrage over the growing number of allegations against Blizzard, this will probably unlike other earnings calls, which often come and go with little comment. Now, the community is coming together in solidarity and support of the company's employees who have suffered at the hands of their peers, managers, and company as a whole. During the earnings call, streamers intend to hold a protest to raise awareness and, perhaps, get the shareholders' attention.
Twitch streamer DesMephisto shared details in the following Twitter post:
This Tuesday we will be protesting on Twitch and Twitter at 1:30PM PDT

We ask that you stream in the World of Warcraft category with Fire the Abusers, I stand with the employees #ABetterABK #EndAbuseInGaming

If you feel uncomfortable playing WoW, feel free to use this graphic. pic.twitter.com/4mdb7ranmY

— DesMephisto 💙 (World of Warriors) (@DesMephisto) August 1, 2021
It's important to note that this financial report will not reflect canceled subscriptions in response to the lawsuit — it only covers  second quarter earnings, which span April 1 – June 30. We'll have to wait for the next earnings call, usually held in early November, to find out how this has affected the company.
If you want to participate — whether by stream or just on social media — DesMephisto has shared two graphics you can post as calls to action. The general Blizzard-themed graphic is attached to his original tweet, and the World of Warcraft-themed graphic can be found here.
You can show your support for women in gaming and other marginalized groups by donating to any of the charities on this list recommended by the Blizzard employees who organized their protest last week:
Remember, folks, this is a marathon for positive change and not an outcry sprint. These protest streams are a mile marker, not the end goal. As members of the Blizzard community, we need to keep our voices heard and show — with our words, our actions, and our support — that Activision Blizzard's behavior isn't acceptable.
Originally published 08/02/2021, updated 08/03/2021