What other types of backpieces should be added to World of Warcraft?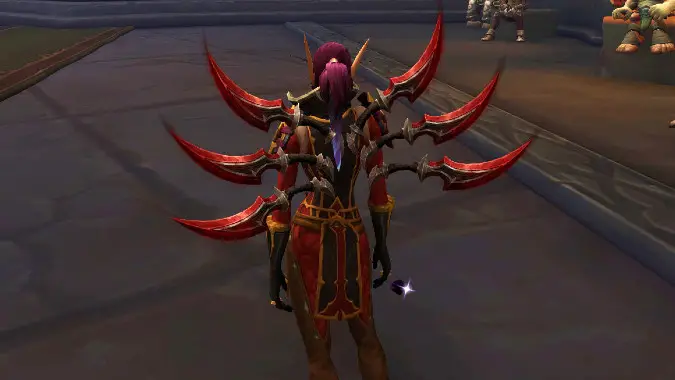 Once upon a time in World of Warcraft, you could have any backpiece you wanted as long as it was a cloak. Granted, there was a lot of variety in cloaks, and as time marched on and expansions came and went they got more texture and sharper details. We've finally reached the point, though, where a cloak is not the only thing you can wear on your back — what started in Battle for Azeroth as a couple of backpack options has now expanded into wings, halos, knives, tombstones, and finally (again) quivers.
Of course, I'm a little concerned that the recent hedonism in available back slot transmog may be temporary and remain a distinguishing feature of Shadowlands only. To combat that, I'm going to start beating the drum for more variety by laying out some suggestions as to what other appearances could be added to the game.
The Necrolord leather armor is simultaneously the most audacious and the most hideous of all the armor we gained access to this expansion, and while I would never subject one of my characters to it, I wouldn't mind if we had a back option mimicking the abomination's extra arm wielding an axe. Sure we couldn't attack with it, but it'd be quite intimidating, especially when worn with the Sprite Darter Wings. (If you'd prefer a more Gnomish or Goblin look, we could get a similar appearance with a mechanical claw arm.)
What I would really love — besides easily-acquired quivers in a variety of shapes and sizes — is a scorpion's tail. Not the most practical look, but it definitely obeys the rule of cool, and it would get me closer to my dream of transmogging as Scorpion from Spider-Man: Into the Spider-Verse.
What about you? Are you big on getting as many back options as possible, or are you satisfied with what we got in Shadowlands and are content to go back to regular old cloaks? Do you want to see more practical appearances like quivers and backpacks, or are you interested in less conventional appearances, like the third arms or perhaps a lantern floating behind you?