Delve into the Deadmines is the new Hearthstone mini-set, bringing new Battlegrounds heroes and new Mercenaries — now live!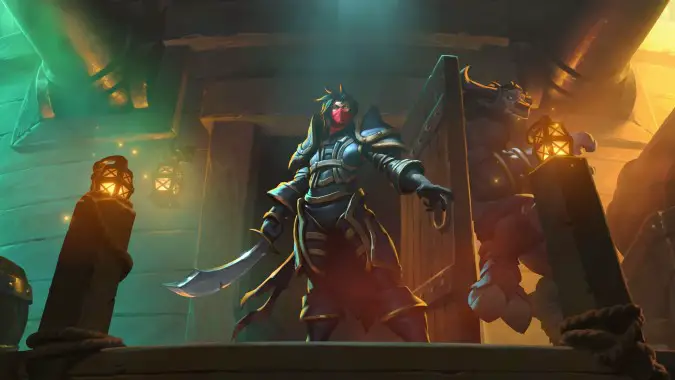 The Brotherhood shall prevail! Delve into the Deadmines is the upcoming mini-set for Hearthstone, based on the United in Stormwind expansion, and it's now live alongside a bunch of other game additions. And it's more than just a new mini-set: with it comes plenty of goodies for each one of Hearthstone's many different game modes. Whether you play Constructed, Battlegrounds, Mercenaries, or Duels, there's something for you here!
But first, the most important part: the musical number.
Okay, now that we've taken a look at what this popular dungeon from World of Warcraft looks like when translated into Hearthstone, it's time to discuss the contents of the mini-set itself.
Deadmines mini-set adds 35 new cards for constructed modes
Constructed is getting 35 new cards, which make good use of the Pirate tribe and the current expansion's Tradeable keyword. You can get all 66 cards — since you get two copies of each non-Legendary (1 Epic, 14 Rares, 16 Commons), and one of each of the four Legendaries — for $15 if you use real money, or 2,000 gold if you prefer to pay with in-game currency.
Speaking of Legendaries, considering how prominently they feature in the announcement trailer, it's safe to expect some classic members of the Defias Brotherhood will show up. Besides Edwin VanCleef himself, possibly making his return in a new form — different from his original appearance as the classic Rogue Legendary — we might be getting notorious WoW NPCs like Mr. Smite, Captain Cookie, and Marisa du'Paige. It's not guaranteed that all four of those will show up, but they'd be my bets at this point.
And since I'm a non-apologetic fan of the Defias, I couldn't be happier about this!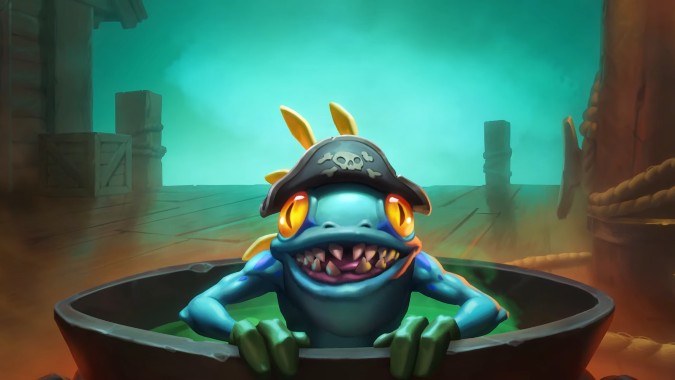 Hearthstone Battlegrounds gets three new heroes
Three new heroes join the fray! We had already discussed the special hero, Diablo, who will only be joining the game mode for a limited time to celebrate the spooky Hallow's End season:
Diablo
Realm of Terror [Passive]

Passive. Every 4 turns, ALL enemies fight the Lord of Terror and your warband for loot.
Alongside the Lord of Terror, we have the owner of the Old Shredder himself, Sneed, as well as Captain Cookie, the Cook. While it's impossible to evaluate what playing Diablo will entail, both Sneed and Cookie have interesting Hero Powers:
Sneed
Sneed's Replicator [Cost 1]

Give a friendly minion: Deathrattle: Summon a random minion of the same Tavern Tier.
Sneed's Hero Power reminds me of the Lich King's ability to give Reborn to a friendly minion, albeit slightly different.
Cookie the Cook
Stir the Pot [Cost 0]

Throw a minion in your pot. When you've gathered 3, Discover from their minion types.
Cookie allows you to potentially discover a minion every three turns, while even picking (to an extent) what their types will be! That seems powerful, but it's toned down by the fact that you probably have to get rid of those minions that go into the pot for a bit.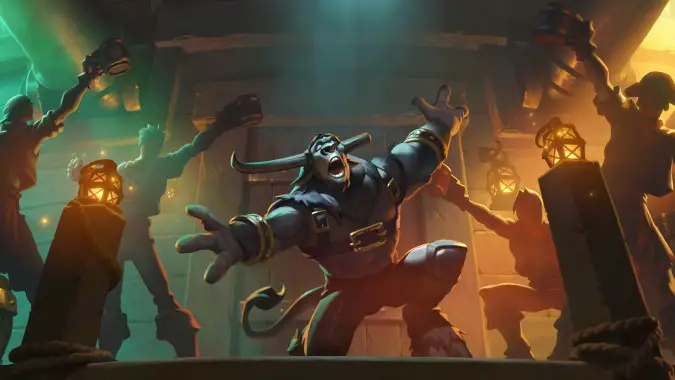 Hearthstone Mercenaries gets five new mercs
For this mode, we have the addition of five new mercenaries to play with! We'll be getting a brand-new type of synergy with several Pirate Mercenaries, as well as new Bounties with fresh bosses to tackle!
The list of mercenaries joining this game mode goes as follows:
Edwin, Defias Kingpin (Legendary Fighter)
Sneed (Epic Protector)
Eudora (Epic Fighter)
Mr. Smite (Rare Protector)
Cookie, the Cook (Rare Caster)
To read the detailed information on all of these new mercs — including all of their abilities — check out the official blog.
And the new Bounties, being added to the Blackrock zone, are:
Highlord Omokk
General Drakkisath
Rend Blackhand

Diablo is coming to Hearthstone Duels
Duels is getting Diablo as that game mode's first dual-class character, having access to both Warlock and Warrior cards and effects, as well as his own unique set of Hero Powers and Treasures to pick from.
And besides the addition of Diablo, Duels is also getting some balance updates.
"But wait, there's more!" — Mr. Smite
Besides all of the features above, we're also seeing Battle-Ready Decks make a return, with new versions of Rogue, Druid, Hunter, and Paladin to choose from, for $15 — still limited to one per account.
And last, but certainly not least, Book of Mercenaries is getting another episode one week after this patch rolls out, on November 9, featuring Paladin extraordinaire Cariel Roame!
Spoiler alert: there might be tears after this one, as the blog states that "at least one mercenary won't make it out alive." Stay tuned!