WoW
Mar 1, 2022 1:02 pm CT
How to get to Antros, the new World Boss in Zereth Mortis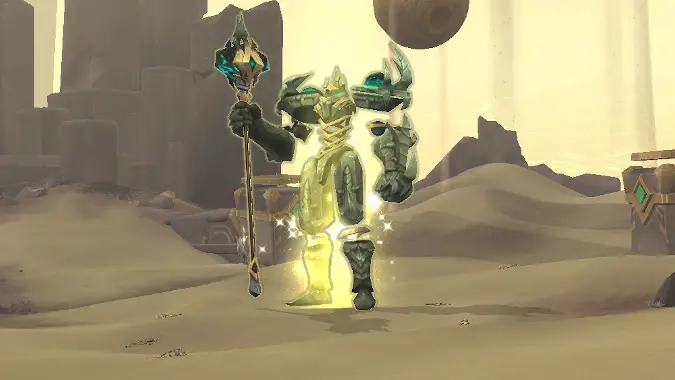 With the opening of Shadowlands patch 9.2 raid the Sepulcher of the First Ones, a new World Boss has spawned in Zereth Mortis for players to kill — and more importantly, loot. Antros, Keeper of the Antecedents, is an automata of the First Ones located on Antecedent Isle in the very north of the zone. Getting to the boss spawn location is relatively straightforward, unlike the veritable nightmare trying to get to Mor'geth (made easier in patch 9.1.5). Follow the main road north from Haven or Exile's Hollow through the Terrace of Formation until you reach the scar created by devourers; at the northern end there is an Ancient Translocator at 46, 21. Note that this Translocator is not connected to any of the others in the zone, so there isn't a shortcut. Interacting with the Translocator sends you to the southern edge of Antecedent Isle, so you'll need to travel a short distance to get to the boss on the northern portion of Isle.
The path to the Translocator and boss isn't clear, as once you leave the road you may encounter a pack or two of devourer mobs. Fighting them off won't be too hard, and on the Isle itself there's only one group of mobs stationed between the arrival point and the boss — although watch out for any patrolling mobs.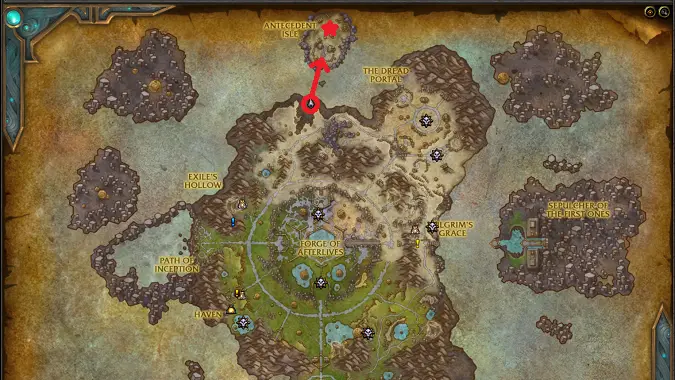 Antros is a pretty standard fight: don't stand in front of it when it casts Furious Slam, avoid players with a Banishment Mark cast on them, and whatever you do, don't stand underneath the Destruction Cores where they land. Destruction Cores can be cleansed with the Trebalim Understanding granted by the Cypher of the First Ones, creating an empowerment zone that increases damage dealt by 15% — just make sure you don't get too close to those with a Banishment Mark in the same zone.
The loot that Antros drops is two i259 pieces for each armor type (no jewelry or cloaks). Plate get Helm and Chest, Mail get Wrist and Waist, Leather get Chest and Feet, and Cloth get Head and Legs. While these pieces share the appearance of the tier sets, none of them can be used to get a tier bonus yet — once the Creation Catalyst opens in week 8, you'll be able to convert these pieces into tier gear.