What do you think should happen to Covenant abilities after Shadowlands ends?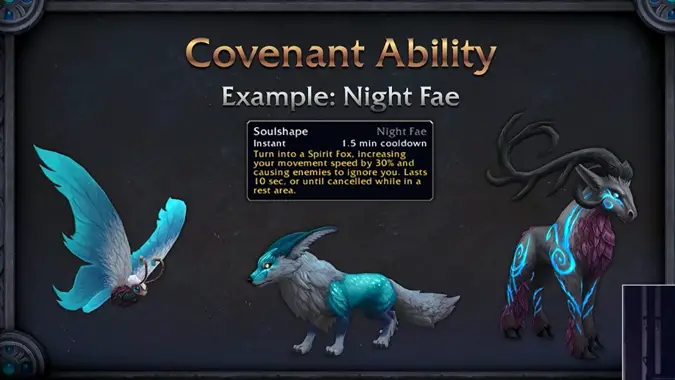 Many Covenant abilities in Shadowlands have become iconic and gameplay-defining — for instance, Convoke the Spirits for Night Fae Druids, Condemn for Fury Warriors, and Divine Toll for Paladins of all kinds. Players everywhere have grown accustomed to relying on those abilities as core pieces of their rotations and toolkits.
And yet, just like with Artifact abilities in Legion and Azerite Traits in Battle for Azeroth, we're all set to lose all of those toys we've learned to love over the past two years. Maybe some of the more iconic and useful abilities will be turned into optional talents, or baked into the class itself — as has been the case with skills like Wake of Ashes and Apocalypse, or the permanent second pet for Beast Mastery Hunters. However, not every ability survives the cut, and there's no guarantee that your favorite ability is here to stay.
But what about utility abilities? It's hard to imagine that skills like Door of Shadows will remain with us moving forward — that skill, despite how incredibly useful it is at times, is a Venthyr skill. It's true that any player can easily swap to Venthyr at any point, and gain access to it. Does that mean that this skill should be given to every character? That's extremely unlikely to happen, so if you've grown used to using Door of Shadows to help you access hard to reach places, you're probably better off start letting it go.
And then you have the curious case of Soulshape, which is far more than just an ability that helps Night Fae characters get around — it's also a customization system, and a collection system too. It's a feature, in and of itself. This one is, perhaps, the biggest question mark of them all. What happens to Soulshape moving forward? Does it become restricted to the Shadowlands — which will no longer be relevant content moving forward? Was it really a collecting system that asked players to dedicate time and effort to earn new forms, but with a set expiration date?
Given the way that these systems were structured, it's honestly very hard to come up with a satisfactory solution. For the active abilities that are part of players' rotations, they should probably use a similar approach to what they did in Legion, and simply give the most popular and useful of those abilities to all players of that class and spec. Honestly, I would love to see something like a new talent row that has four options rather than three, so that every spec has permanent future access to all four of their Covenant abilities, being able to swap among them at will. But that is unlikely to happen.
As for Door of Shadows and Soulshape, sadly, I don't think there is a good solution, and we're just going to have to resign ourselves to saying goodbye to them. But what do you think? Do you see a good way to handle these abilities once Shadowlands ends? And how could such a problem be avoided in the future, while accounting for the issues that borrowed power tried to solve, such as ability bloat?