WRUP: We're definitely not a cult edition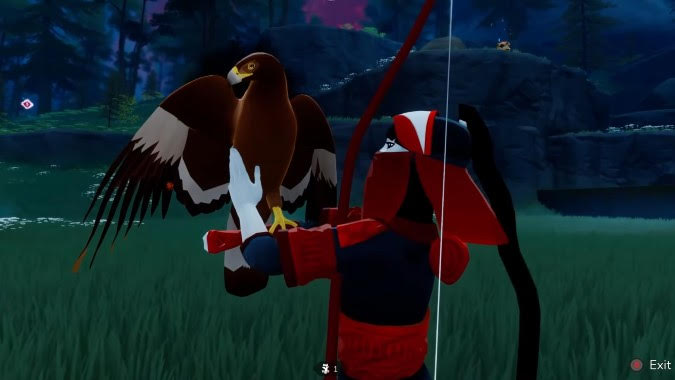 Welcome to WRUP, hosted by me, Mitch Liz! With Mitch out for the holiday weekend, it is on me to fill in so we do not lose the joy of talking about all the nerdy things we love. Going into the long weekend it seems like a lot of us are pretty excited about the new Obi-Wan Kenobi show on Disney+, which is now live with its first two episodes — and if I say so myself, it's really good. Several of us are also in the Warcraft Arclight Rumble beta, and trying to teach ourselves the ropes. Mitch created a guild for us in game, which he very sensibly named "Not a Cult."
Nope. No cults here. I don't know what you're talking about.
So let's get to WRUP and see what the team is playing, watching, and enjoying this weekend!
The Pathless (see header image)
I'm playing The Pathless. It's an action-adventure game where you play as The Hunter, who uses her bow and arrow and her trusty eagle companion to dash and glide all across the environment at super high speed. Seriously, movement in this game is an absolute joy. You have a dash bar, and you constantly refill it by shooting targets that appear all around you. You don't need to aim, you only need to worry about timing. As long as you keep shooting, and finding more things to shoot, you'll keep going really, really fast.
There are puzzles, there is minimalist storytelling, and you can pet the eagle — nay, you *have* to pet the eagle at some point early on; it's required to progress, and that fact alone makes this game an easy 11/10 so far.
League of Legends Mid-Season Invitational
Mass Effect 3
Can confirm, petting the eagle in The Pathless is most wonderful. That game's really atmospheric and lovely.
I'm looking forward to watching the close of the League of Legends Mid-Season Invitational this weekend. G2 has been toying with my heart for the whole event – an incredible win streak followed by a crushing string of losses – but I'm still putting my faith in either them or T1 to take it all. I always want Europe to be a contender, but it'd also be a treat to see Faker back on top in front of a home crowd.
For my own gaming, I expect to put in a lot of hours on my Mass Effect 3 playthrough. It's possible I will save the galaxy by the end of the weekend. All in a day's work, you know?
WoW
Critical Role: Exandria Unlimited: Calamity
Ori and the Blind Forest
Is it Friday already? This week has been insanely busy and I don't even know what days are anymore.
I'll probably play some WoW this weekend, because I'm a one-game person. I may watch Critical Role's EXU Calamity. I may try Ori and the Blind Forest again on my Switch (had a great soundtrack and seemed cool, but too dark for car rides). But I also may just get some sleep because I've been trying to cram 2 months of work into the next few weeks for reasons other than me just being a perfectionist. Three day weekend, here we gooooo.
Star Wars [indeterminate]
Warcraft Arclight Rumble
After watching — and LOVING! — Obi-Wan Kenobi's surprise launch last night, I feel like watching so much Star Wars. Maybe the original trilogy to see how this is going to fit together (or at least the first one). Maybe even the prequels, to refresh my memory on where we're starting. Or maybe Clone Wars, which I love but haven't watched in a long time. Or maybe Rebels, which I've never watched through? Or… or… well, it could be anything.
And I have even more on my to-watch list! I haven't finished Moon Knight. I haven't started watching Strange New Worlds, which I've only heard great things about. And I've started watching Prehistoric Planet, a dinosaur docuseries with pretty sharp CGI dinosaurs, narrated by David Attenborough.
Other than that, I've been playing quite a bit of Arclight Rumble and trying to figure it out. It really does fit Blizzard's "easy to learn, difficult to master" format well, but it feels like after playing for a while you hit a wall — hard. I haven't quite figured out the best way to advance from here, but I'm working on it.
And I have to say, I am wildly hyped about all the games coming out in the next couple of weeks. 9.2.5 coming to WoW! A new mini-set for Hearthstone! The Diablo MMO I've been waiting 20 years for in Diablo Immortal! I just don't know how I'll find the time. Maybe I don't need as much sleep.
I'll be out of town — we're not going tooooo far away (just a couple hours), but we'll be staying at an AirBnB with friends to celebrate a 30th birthday (not mine; I still have a little time left). It's going to be a lot of totally responsible drinking, giant Jenga, kayaking, and whatever else we can get up to in a long weekend with a lovely house to ourselves.
I will also, occasionally, be playing Arclight Rumble because I'm already fairly hooked on the game and I'm sure we'll have some downtime here and there.
Marvel Snap
Obi-Wan Kenobi
This weekend, I am so incredibly excited about the premiere of the Obi-Wan Kenobi series on Disney+. As you've probably surmised by now, I'm a HUGE Star Wars fan, and the trailers have me totally stoked. It looks like we're getting call backs to characters and locations from the prequels, the Clone Wars animated series, the Rebels animated series and even the Jedi Fallen Order video game. If that's what they were okay with showing us in trailers, imagine the surprises they have in store in the actual show.
For gaming, this weekend will be mostly Marvel Snap. I've been playing a ton of the closed beta and I'm enjoying it quite a bit so far. It's like Hearthstone in some ways, but oh so different in many others. It's a simple game on the surface, but has some nice depth. The various locations you battle for each have a unique way they change the strategic decisions you make. It makes each game feel a little different. I can see myself logging many, many hours with this game when it goes live.
Birds of a Feather
Obi-Wan Kenobi
It's a Closed Beta test kind of weekend, as by virtue of participating in the Birds of a Feather card game kickstarter I have access to a solo-player app of the game to play around with, so I'll be looking for birds on my phone when I'm not out and about looking for birds in the wild.
And of course I'll be watching the premiere of Obi-Wan. Other than that it should be a nice quiet relaxing three-day weekend for my family.
Took the plunge and installed V Rising to play with guildies. It's Vampire Survival Action RPG. Trying to scratch the itch of Minecraft and build stuff while being cool vampires and turning into wolves and bats and all sorts of stuff that's good.
Magic: The Gathering
Whacked!
Shrek Super Party
The G Word
I stepped into a time machine, and it's the early 2000's. Back then I played Magic: The Gathering a little but was not an avid collector. A friend who is still a collector said I should be playing, so I'm going to relearn the game on Sunday. Unrelated, but from the same era, I hooked up the original Xbox, and played several games including Whacked! and Shrek Super Party, both great games in their day that didn't stand the test of time.
For television, it's not as good as Adam Ruins Everything, but Adam Conover is back in a look at the government in The G Word, on Netflix. Strangely, he swears in this show, and my son loved Adam Ruins Everything, can't really have him watch this one. Otherwise, an informative show that shows a positive and negative side to how things work, as he does.
I'm moving this weekend, so probably not gonna get to do a lot of playing. I'm eyeing Wildermyth pretty hard.
Diablo 3
World of Warcraft
Lego Star Wars: The Skywalker Saga
With Diablo Immortal on the very near horizon, I set a somewhat foolish goal for myself to wrap my remaining Season's Journey tasks over the weekend. It's actually not much, the bulk of the remaining to-dos involve leveling legendary gems but I am facing down the specter of Set Dungeons. Boy are they just… such an experience. But the coming of patch 9.2.5 has sent my brain back into "okay, let's play some Warcraft" mode because CROSS-FACTION GROUPING. Also, I'm insanely curious about the Blood Knight's Dedication ensemble — I've had a Blood Elf Paladin since The Burning Crusade was released and no matter how much I enjoy my alts, I always come back to playing her. So logging in and doing some clean-up and catch-up sounds fun (okay, less fun, more necessary).
On the more portable side of gaming, I've fallen completely head over heels in love with the newest Lego Star Wars title. The Skywalker Saga has been so much fun to play! You are literally playing out the movie storylines as wee little LEGO people. And there are so many extras involved that I anticipate many, many hours devoted to this game. Finally, in meatspace, I'm getting ready for some weeks of forced downtime, which means a lot of cleaning and organizing and planning which is basically like life Tetris. And now that theme is stuck in my head. Yogg help me.
And that's all for us this weekend — but what about you? What aRe yoU Playing this weekend?
Regardless of your gaming plans, I hope you all have a good holiday weekend, and I'm sure you'll see us all back here next week unless we join a cult that forbids internet use. But we'd never do that… would we?