WoW
Jun 30, 2022 2:00 pm CT
Shadowlands Season 4 begins on August 2 — here's what you need to know about the game's latest Season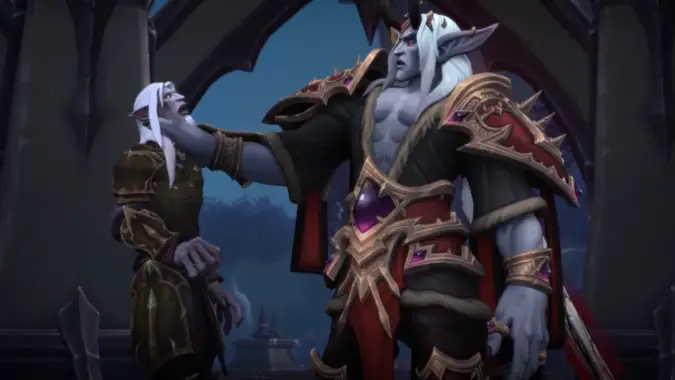 The World of Warcraft team announced today that Shadowlands Season 3 would end the night prior to the first weekly maintenance in August (August 1 at 10:00 p.m. PDT for North America realms / 2 August at 22:00 CEST for European realms), and the "experimental" Season 4 would start immediately after the weekly reset and said maintenance concludes. The end of Season 3 means that all PVP and Mythic+ seasonal rewards and titles will no longer be possible to earn, and raiders will no longer be able to get the Ahead of the Curve and Cutting Edge achievements for the Sepulcher of the First Ones raid — although you will still be able to obtain the Carcinized Zerethsteed mount from the Jailer fight on Heroic or Mythic until the launch of Dragonflight.
Season 4 will be different from Season 3 as the development team is testing out some new ideas for it as a way to combat the biannual pre-expansion lull. While PVP players will not see much difference besides some changes in talents, Mythic+ players and raiders will be an integral part of the experiment that may carryover into Dragonflight. For Mythic+ players, the new affix is Shrouded, adding Nathrezim in disguise that must be revealed for a stacking stat bonus. But the bigger change is that Mythic+ will be given a new set of dungeons to run from older expansions instead of the eight from Shadowlands that have been run during the previous seasons. These dungeons are:
Tazavesh: Streets of Wonder
Tazavesh: So'leah's Gambit
Operation Mechagon: Junkyard
Operation Mechagon: Workshop
Return to Karazhan: Lower
Return to Karazhan: Upper
Grimrail Depot (with motion sickness controls now available)
Iron Docks
For raiders, Season 4 will have a Fated affix that applies to one of the three Shadowlands raids — Castle Nathria, Sanctum of Domination, or Sepulcher of the First Ones — each week, and updates both the challenge and the item rewards in the Fated raid. There will be a new currency called the Puzzling Cartel Dinar that players can use to purchase three pieces of normal difficulty Fated loot from the raids (locked behind a quest chain available at the start of Season 4) as well as currencies that can be collected to upgrade normal Fated items to Heroic or Mythic ilevel.
It'll be interesting to see what impact this season has on Dragonflight; while we know that there are already plans to rotate Mythic+ dungeons during the Seasons (although the old expansion dungeons aren't known), the possibility of the Puzzing Cartel Dinar leading to the return of a Valor Point system like that in Wrath of the Lich King is intriguing, as the RNG behind raid loot drops has gotten increasingly frustrating over time.
Love it or hate it, the new Season will start on August 2.