WoW
Aug 4, 2022 10:00 am CT
How to increase all your Conduits to item level 278 in Shadowlands Season 4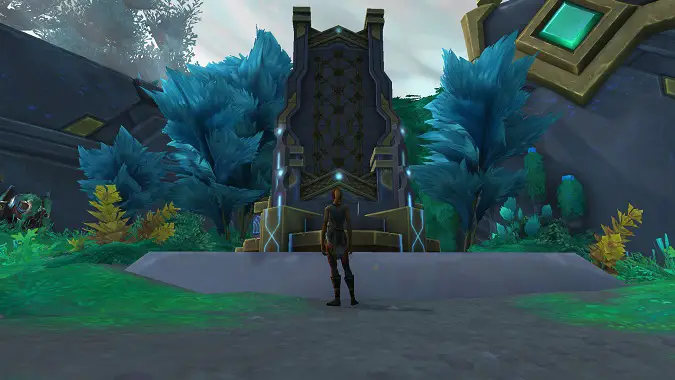 Shadowlands patch 9.2 added three Conduits catchup items that gave a character any missing Conduits as well as upgrading them to a base level. The first two (base ilvls 226 and 239) were available from the Enlightened Quartermaster in Zereth Mortis (who was conveniently located near that zone's Forge of Power) after reaching Friendly and Revered reputation, respectively. The Vessel of Profound Possibilities was the most powerful of these items, increasing every Conduit to the maximum item level 278, but was exceedingly difficult to obtain — one had to complete all but the last chapter of the patch 9.2 campaign as well as defeat every Sepulcher of the First Ones boss on Mythic difficulty or earn a 2400 ranking in PVP or a 3000+ rating in Mythic+. With Season 4, however, the Vessel of Profound Possibilities has become a lot easier to acquire.
Instead of having to complete one of the major seasonal endgame accomplishments, you just have to bring 10,000 Cosmic Flux to your Covenant's quartermaster in Oribos or their native zone — the item doesn't even a reputation requirement!
Of course, 10,000 Cosmic Flux isn't chump change, especially if you've been using it to upgrade your gear to tier equivalents. One option is to transfer Cosmic Flux between characters; the Pouch of Prodigious Wonders — added only a few weeks ago — allows you to purchase a BOA container of Cosmic Flux from the Enlightened Quartermaster to send where needed. There is a little bit of a Cosmic Flux lost in the exchange — the item costs 1,500 but when opened only grants 1,250 — so don't buy until you need it.
Of course, there are plenty of other ways to earn Cosmic Flux, especially by adventuring in Zereth Mortis and raiding. While it may take a few weeks to earn all that you need, you only need to use the item once and then you never have to worry about upgrading your Conduits again. I'll also add that I don't feel this is a worthy item to pursue on characters that aren't regularly running endgame content; the overall gain in power isn't very impactful in casual play, and there's a strong likelihood that Conduits will be going away with the Dragonflight prepatch.