The Queue: Slicing with my Splatana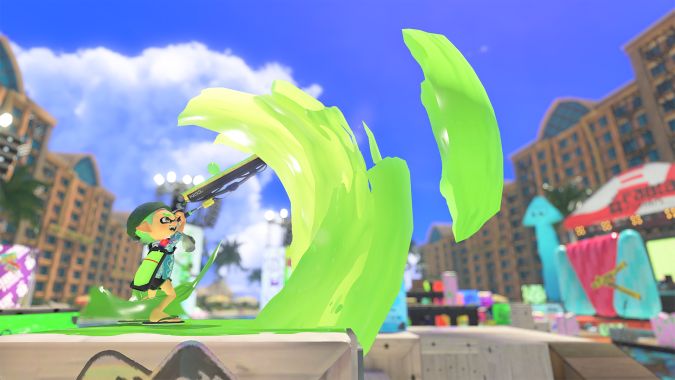 Well, I had a nice intro written all about Splatoon 3, but then the website logged me out and I lost it. So now, you get this pale imitation of an intro.
…Okay, the original wasn't all that special anyhow. But it did include a nice tie-in to our first question which I'm just gonna dive righ
---
KALCHEUS ASKS ABOUT MY INKLINGS:
Q4tQ Did you watch the latest Splatfest? What are your thoughts?
Splatanas are a new weapon type in #Splatoon3. Send blades of ink flying with the Splatana Wiper or perform a charged slash to devastate your enemies! pic.twitter.com/k766awcvhN

— Nintendo of Europe (@NintendoEurope) August 10, 2022
Kal, you're better than this! Splatfests are the big, monthly battles that are now apparently a 3-way fight to ink the most turf! In fact, in aforementioned Nintendo Direct, they revealed the very first Splatfest of Splatoon 3 will take place in just a few weeks. This time around, it's Rock vs. Paper vs. Scissors — tbh, I'm not quite sure which way I'm leaning.
As for the Direct itself, I'm pumped. We have new weapons (effectively a bow and a katana), a new trio of singers that look to be a good mix of personalities (especially Big Man!), and a whole lot of QOL changes that promise to make it an even better experience than Splatoon 2.
So yes, I am excite!
---
RAZWICK HAD A VERY SPECIAL DAY:
[Yesterday was] my 30th birthday! But we're not doing anything different because I'm boring and old, yay!
As someone who recently crossed the threshold into being An Old™, I wanted to be sure to wish you a ding dang happy birthday!!! Being old isn't all that bad, provided your organs hold up.
---
ACE NEEDS TO KNOW ABOUT LEVELING:
Q4TQ: is Chromie time worth it? and what time line should I, as a new player, go into?
It all depends what you're after. As plenty of folks mentioned, leveling only gets better and more refined as you hit more recent expansions. Personally, Warlords has my vote for the most efficient leveling area (iirc, it was also mathematically the fastest a while back but that may have changed).
Personally, I don't think Burning Crusade is as bad as people are saying either (especially with flying). Yeah, the layout isn't great, but it also tends to provide you with that moment of "15 quests to turn in all at once" which can be a fun feeling.
…Maybe I just like other dimensions, though.
---
CORY SHAMELESSLY SELF-PROMOTES, WHICH I'M ALWAYS ALL FOR:
Heck yeah, Cory! Everyone go read the interview Cory did :)
---
BENDOVER ASKS ABOUT EASE OF TRANSPORT:
QftQ:
With a clear shift in WoW to make it easier to just get to do the content you want to, what are your thoughts on the M+ Instance Portals as a reward for clearing high M+ Keys? Is it something that should remain at the highest levels, or should the requirements be lower, in order to make it faster for Low Key M+ runners to also get their things done?
Personally, I don't think it's that big a deal, as I don't run M+ that often. Travel time is kinda boring, but it's not really a big hurdle to access anything. What are the Pros and Cons for lowering the requirements to getting those Instance Portals?
There are some things in the game I'm still in a bit of an older mindset about, and dungeon teleports are one of 'em. They felt like a really nice, if slightly inconsequential, reward for Gold CMs back in Mists, and I think the level of "nice but not necessary" is a great reward for higher keys.
In this case, I guess the biggest argument I have against lowering the teleports is that they don't feel like they have a big enough impact to necessitate being more widely available. They're a fun bonus, and a nice way to get around the world in two expansions. But I'm not really of the mind that they need to be lowered.
---
JæKSDæDI THE TOURIST 💖 WANTS TO KNOW ABOUT BOOKS:
QftQ: Are you rereading any books you've enjoyed in the past? I'm about to start reading the First Chronicles of Amber again.
The only things I've been able to read lately have all been [REDACTED], but I've been trying to make time to have "for fun" reading sessions as well. It's… not going so great. I haven't really read for fun in a long while, and I'm also not really the type to ever re-read a series. Part of it is because I like the original memory of reading it, part of it is because, well, if I'm gonna make time to read, I want it to be new things!
Bit of a sad answer, I know, but hey — it's the truth!
That's our Queue for today! I'll see you all next week (if not sooner… or later…), and in the meantime, be good to each other and ask lots of questions!