How does the shop work in Overwatch 2?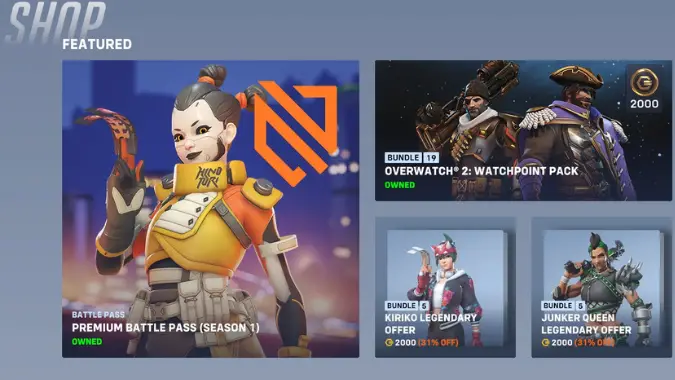 New to Overwatch 2 is the shop where you can purchase additional cosmetics for your favorite heroes. You'll see all featured items and bundles when you first access the shop from the main menu. The shop will likely rotate featured items every two weeks, though if they decide to change it, there's a small countdown until the next rollover displayed just under your Overwatch Coins total on the main shop page.
When you want to purchase a cosmetic, there are two types of currencies to be aware of. Instead of using real life currency, players will need to buy Overwatch Coins or Overwatch League Tokens.
Overwatch Coins: These coins can be used to purchase bundles and other cosmetics
Overwatch League Tokens: These are used to purchase skins specifically related to the Overwatch League teams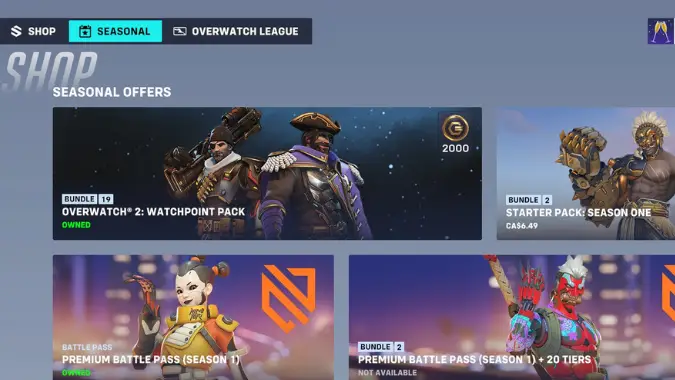 What can you buy with Overwatch Coins?
Once you pick up some Overwatch Coins, the featured shop will have a few hero bundles for sale. For instance, I have the ability to pick up a Kiriko Legendary bundle, a Junker Queen bundle, and a Sojourn bundle. These particular bundles include a Legendary quality skin, an Epic emote, a Rare victory pose, a voice line, and a spray.
The Watchpoint pack grants the Premium Battle Pass for the season, 2000 Overwatch coins, and a wide variety of both Legendary and Epic quality skins. If you're a new player just getting started in the Overwatch universe, this is a great way to unlock all of the heroes without having to grind through hours of the game.
In the top left, you'll be able to browse through more selections, like some of their seasonal offerings. Though there is no precise word on how often the seasonal shop rotates, chances are it will change up with every new subsequent Overwatch 2 season (or new Battle Pass). In addition to the Legendary offers, there are smaller-scale Epic offer bundles that include a skin, a voice line, a spray, and a highlight intro.
Lastly, Battle Pass tiers can also be purchased, both as a part of bundles within the shop, and through your Battle Pass page. We have a full post with all the details on purchasing Battle Pass tiers.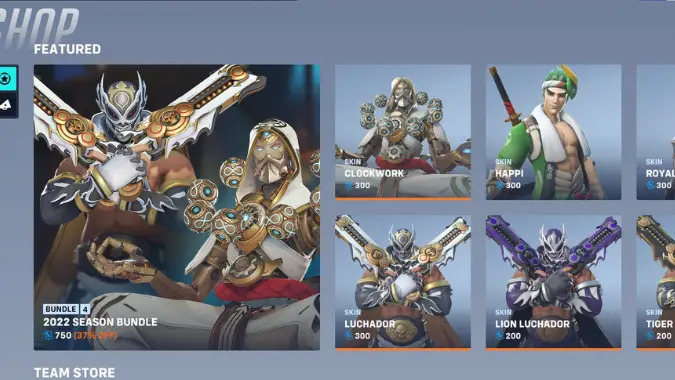 What can you buy with Overwatch League tokens?
As for the Overwatch League tokens, those can be used to purchase a select few cosmetics. It seems sales shown here are only for skins. The season bundle contains four assorted skins for different heroes.
Of course, you can also show support for your favorite Overwatch League teams and buy the team-specific skins for individual heroes. You can show off that Vancouver Titans Zarya skin and make it your own, for instance.
This is just the first iteration of the shop. All in all, not a bad start. I'm sure that more items will pop up over time. One feature I would like to eventually see is for the ability to be able to shop for cosmetics by Hero. If I happen to be a Mercy main, I want to look at all skins currently available for purchase just for Mercy. As it is, while you can browse all the skins for a Hero at your leisure on their Hero page, you can only buy those skins when they're in the shop, and there's nothing on the Hero page to indicate a skin is currently on offer in the shop. A per-Hero purchase page in the shop would make it harder to miss those skins that are still eluding me.
Overwatch 2 comes out on October 4, 2022!