How to reset skill points and respec talents in Diablo 4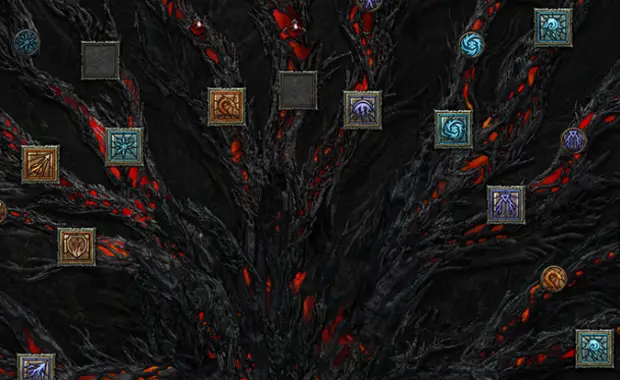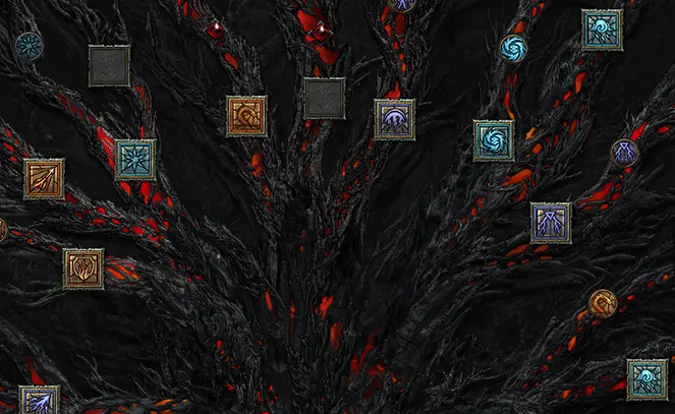 Talent builds did not exist in the days of the original Diablo; you were a Warrior, Rogue, or Sorceror, and had little gameplay customization beyond that. Diablo 2 and Diablo 3 added talents and increasing levels of customization, but  Diablo 4 will have a truly massive number of builds available to players.  The game's skill trees have six main sections, each housing its own class of abilities and passives. Half the fun of Diablo 4 is finding the build that works best works for you, such as throwing shadow daggers on a Rogue, shifting into a werebear on a Druid, or exploding corpses everywhere on a Necromancer.
But while you play through Diablo 4, you'll probably want to change up your build to try new play styles and pick the perfect talents. So how do you change your build in Diablo 4? And how much will it cost you? Here's everything you need to know about resetting your talents in Diablo 4.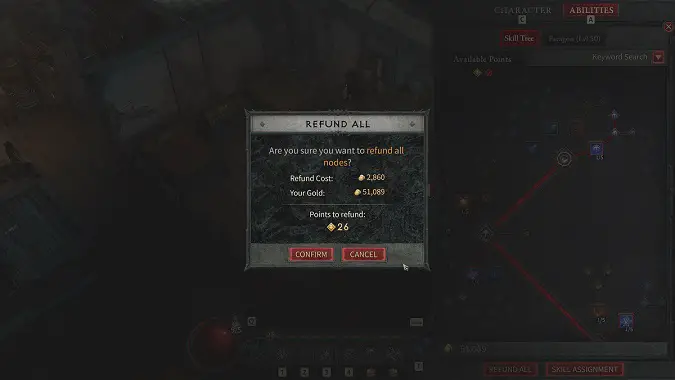 How to refund skill points and reset talents in Diablo 4
Resetting your build in D4 is fairly easy, whether you want to swap a single skill or reset your entire build and start over.
It depends on what your goal is: refunding a skill you accidentally put a point or two into, or resetting your whole skill tree to begin anew. Both cost gold. We'll address each; actual shortcuts included below reference the PC version, but the options exist for console play as well.
Resetting a single skill is incredibly easy:
Open your Skill Tree under the Abilities tab by clicking A (open your character pane and hit R1 on PlayStation or RB on Xbox)
Right-click on the Skill you'd like to refund (select the Skill and press and hold square on PlayStation or press and hold X on Xbox)
However, if refunding this point impacts your progress to the next node section or a child skill — for example, if you need a certain number of points to unlock later talents and refunding this point prevents you from hitting that number — you'll have to refund points further down as well (or at least shuffle them around). The game will not (as of beta) let you break that dependency, but the easiest way around it is to reset one talent in your top tier, use that point to buy the lower tier ability you want, and then refund the talent you originally wanted to get rid of.
But if you want to seriously change up your spec, you may want to refund all of your skill points and completely reset your talents. Refunding all skill points is much easier, but comes at a higher cost. Here's how to completely reset your talents:
Open your Skill Tree under the Abilities tab by clicking A (open your character pane and hit R1 on PlayStation or RB on Xbox)
Click Refund All at the bottom of the window (or press square on PlayStation or X on Xbox)
This pops up a prompt (see above) confirming you want to reset your skills and listing both the cost and how many skill points you'll get back. Accept the prompt.
That's how you reset your talents — now let's talk about what resetting your talents will cost.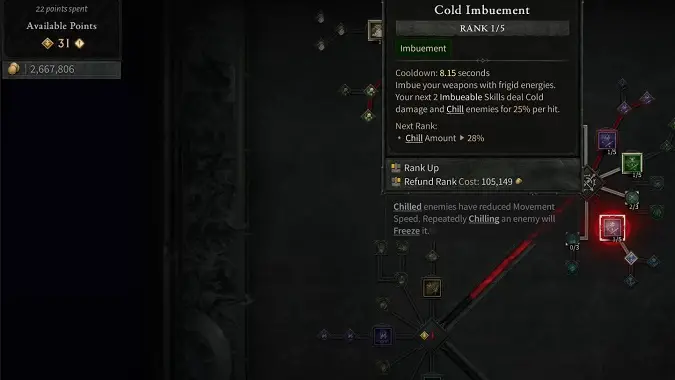 How much do skill refunds cost?
First of all — changing your skills in Diablo 4 have an associated cost in gold. We knew skill refunds would have a cost early on and tested during the beta. Your first few levels are free, then refunds begin to cost gold at level 7. That cost goes up as you level. During the beta, we captured costs starting around level 10:
Level 10 — 3 gold per skill point
Level 11 — 4 gold per skill point
Level 12 — 6 gold per skill point
Level 13 — 8 gold per skill point
Level 14 — 11 gold per skill point
Level 15 — 15 gold per skill point
Level 16 — 19 gold per skill point
Level 17 — 24 gold per skill point
Level 18 — 30 gold per skill point
Level 19 — 37 gold per skill point
Level 20 — 46 gold per skill point
Level 21 — 55 gold per skill point
Level 22 — 66 gold per skill point
Level 23 — 79 gold per skill point
Level 24 — 94 gold per skill point
Level 25 — 110 gold per skill point
Refunds get more expensive from there, though because the beta only went to level 25 we only have exact numbers to that point. We get a glimpse of a later refund cost in the "Into the Endgame" preview video: at the 1:21 mark, you see an example of the skill tree with 22 points spent and 31 points remaining. Based on the video's focus (endgame systems), this is presumably the total number of skill points available at max level and the skill shown has a much heftier cost to refund a rank — 105,149 gold. Oof.
Following player concerns on the forums, Associate Game Director Joseph Piepiora stated in an interview that the gold required to reallocate skill points will be the same at launch as what's been shown previously. So yes, this cost is accurate to what will be in the live game. In the same roundtable interview, Piepiora reassured that "players earn a significant amount of gold once you start getting into those high levels where those respec costs begin to climb" so a build change should not turn your character destitute.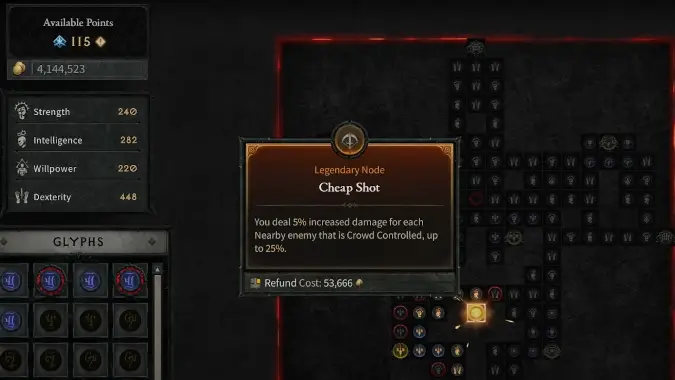 How to refund Paragon points and reset glyphs in Diablo 4
Diablo 4 also has the Paragon system, which has not been available for testing during the beta — but resetting your Paragon points should work similarly. Previews indicate resetting a Paragon node can be reset with a right click, exactly like talents. The same appears to allow you to un-equip Glyphs from socket nodes.
There were also refund costs visible for paragon points in The Endgame review video also gave us a peek at Paragon reset cost — and they're quite a bit higher. As seen in the screenshot, Paragon points cost a flat 53,666 gold per node refund, regardless of rarity. Based on Piepiora's feedback, this is the cost we'll see in the live game as well.
Glyphs on the Paragon Board work differently than their fixed counterparts. You can unequip a Glyph from a socket node for free and re-use it in another node. This will likely remain in the live title based on the game director's feedback.
The cost measures throw away the wild-and-free build changes of Diablo 3 past, at least at higher levels, but does not lock players into extensive material grinds like the Token of Absolution from Diablo 2. Just remember the wisdom of the Knight in Indiana Jones and the Last Crusade — "choose wisely." And have fun. See you in Sanctuary!