When is Diablo 4 early access?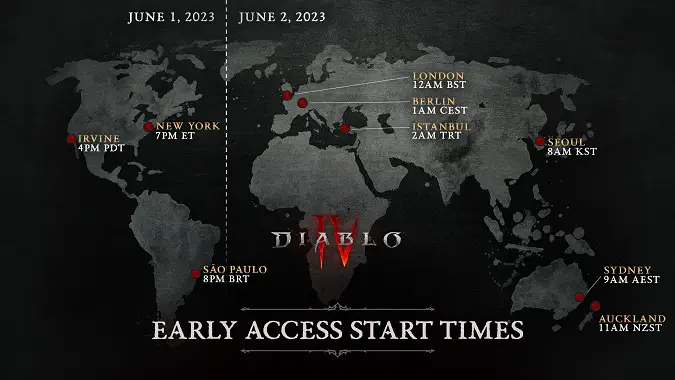 The next installation to the Diablo franchise — Diablo 4 — will be in the grabby hands of all players on June 6, but one of the benefits of the more expensive pre-orders is early access to the title. So when do these pre-ordering players get to start playing the most anticipated game of the summer? Early access to Diablo 4 starts Thursday, June 1, at 4:00 pm pacific.
Two editions of Diablo 4 come with "up to four days early access" to the title: the Digital Deluxe Edition and the Ultimate Edition. The early access is one of the few non-cosmetic inclusions in the bundles — arguably, the only other non-cosmetic perk was the exclusive beta weekend for pre-orders in March. Everything else in the bundles, including the battle pass for Season 1, is solely aesthetic.
Both early access and retail launches will be simultaneous global releases, meaning the title opens to everyone at one time across the globe. But what does 4 pm PT on June 1 translate into for other regions? Check the handy list of popular time zones below:
Thursday, June 1 at 4:00 pm PDT (UTC-7)
Thursday, June 1 at 7:00 pm EDT (UTC-4)
Friday, June 2 at 12:00 am BST (UTC+1)
Friday, June 2 at 1:00 am CEST (UTC+2)
Friday, June 2 at 2:00 am TRT (UTC+3)
Friday, June 2 at 8:00 am KST (UTC+9)
Friday, June 2 at 9:00 am AEST (UTC+10)
Friday, June 2 at 11:00 am NZST (UTC+12)
Did we miss your timezone? Check this handy dandy link to Every Time Zone to see when the event starts for you.
The original early access launch time announcement came from Blizzard Entertainment President Mike Ybarra on Twitter. This dropped after some back-and-forth teasing of the details on the social media platform between Ybarra and franchise General Manager Rod Fergusson. But, frankly, it was a delightful post-beta bit of information to give pre-order players something to look forward to!
Realistically, four days of early access is a drop in the bucket that is the lifetime of a Diablo title. Will that stop pre-orders from jumping in at the earliest possible minute and playing their faces off before everyone else? Absolutely not. After all, we've called the Blessed Mother home and need to ensure her plans are in the best interests of Sanctuary.