Beginner's guide to Hearthstone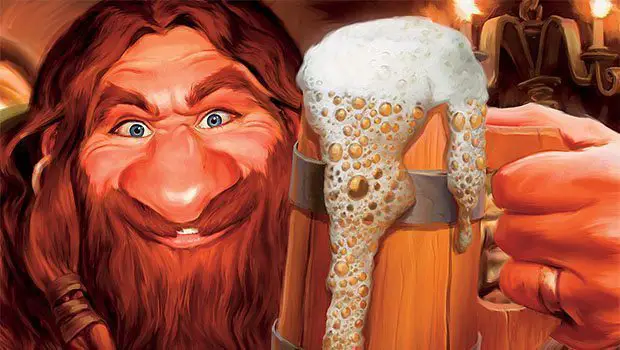 Today's column is dedicated to new players or players looking to progress further in Hearthstone without much of a collection begin with. Whether you're new to the game or just not quite sure how to get started, the goal is to develop your card collection through the different quests so that you can participate in different game modes against live players and partake in weekly Tavern Brawls.
Basic Gameplay
General deck building advice can be found here. If you're looking for deck ideas, Hearthstone Players has a great list of decks for each class if you have access to Blackrock Mountain and Naxxramas. If you don't have those adventures unlocked yet, that's okay! Here are some decks featuring only basic cards from all the classes.
Actual gameplay advice is going to vary based on the classes you're using but there are certain generic key concepts that will serve you well.
As you progress later and later in the match, count up all the damage you can inflict and compare it to your opponent's health. There's no point in killing your opponent's minions or clearing the board if you can deal lethal damage to your opponent.
When you use a spell or sacrifice a minion to kill another (or "trade"), do so intelligently in your favor. If you can use one of your minions to remove two of your opponent's, you'll have a card advantage. This works even better if you can use your own Hero Power (like the Mage Fireblast) to clear out minions.
Don't be afraid to use your health total as a resource. This includes attacking with your hero into another minion (especially one with taunt).
Game modes
There are a number of different ways to play Hearthstone — but if you're just getting started, you're probably most interested in playing casual or solo adventures.
Casual Play: You queue against other similarly skilled players. Games here are eligible for class experience and count towards your daily quests.
Ranked play: You queue against other similarly skilled players. Games here are eligible for class experience and count towards your daily quests. At the end of the month, you will receive a ranked chest with rewards that vary based on the highest rank earned and if you reach at least rank 20 you'll get a special card back.
Solo Adventures: You play against the AI in practice mode or Adventure modes. You can purchase Curse of Naxxramas or Blackrock Mountain with either real money or gold. As you progress through them you'll unlock various cards — some of them very good cards — by defeating bosses or completing class challenges.
Arena: A mode where you build a deck based on cards randomly assigned to you and chosen from one of three random classes. Rewards scale up based on how many wins you achieve. One reward will always be a pack of cards while the rest are a combination of gold, Arcane Dust, or cards (normal or gold cards). If you can achieve 12 wins, expect to receive somewhere between 300 to 500 gold and dust in addition to cosmetic golden cards. Stepping into the Arena will cost you 100 gold or real money, though your first time is free.
Tavern Brawl: Only available to players with at least a level 20 hero. The brawl changes every week with a different set of rules or conditions. Some rules involve them playing with a pre-constructed deck so do check every Wednesday to see what the conditions are. If you like, you can reach level 20 with your favorite hero by simply playing in practice mode under Solo Adventures repeatedly without the nerve wracking of playing against live players. Rewards a pack for the first win of the week.
Gold
Gold is one of the primary currencies in the game for purchasing packs, obtaining entry into the Arena, or unlocking different wings on different Adventure Modes. Card packs cost 100 gold and  contain 5 cards, of which one is guaranteed to be rare quality or better. It's possible to receive different combinations of cards. You might receive the same two commons or receive three different legendary cards in one pack. Most of your gold will come from completing your daily quests and you're going to want them to help you open up Adventure Modes and purchase card packs. Individual Adventure Mode wings can be unlocked for 700 gold.
Many of the regular daily quests involve winning games or achieving a specific set of conditions. For example, Destroy them All requires you to destroy 40 minions for 40 gold whereas quests like Watch and Learn reward a pack. Most of your quests involve winning a set number of games as a specific class, such as Hunter or Mage Victory.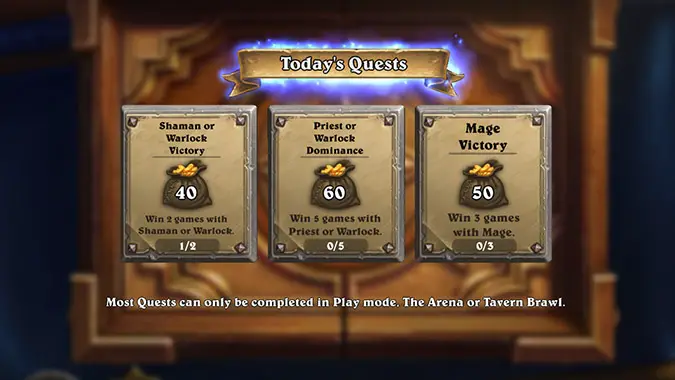 Dust
Arcane Dust is used to craft new cards for your collection. Dust can be obtained through a variety of ways but the main source will be from "disenchanting" (removing) cards from your collection. Just click on the "My Collection" button from the Hearthstone main menu to see (and disenchant) your cards, and click the "Crafting" button to create new cards. Right clicking on cards in your collection will show you the amount of dust it costs to create it and the amount of dust it generates when you remove it. Here's a recommended priority list of  cards to craft as you start accumulating your collection.
Progression order
The first thing you'll want to do after completing the introductory tutorial mode is to unlock all of the classes. Use this time to get accustomed to the different classes and to the basics of the game. Not only that, start thinking about a particular class that you'll enjoy playing. All class basic cards will be unlocked the moment you bring it to level 10. In fact, you'll want to play all classes to level 10 so that you can complete both the Level Up and Ready to Go! quests. I recommend levelling up the Mage or Hunter class to level 20 first so that you can participate in Tavern Brawls and obtain the weekly free pack reward.
I strongly advise working your way through the following quests at some point to knock out some quick rewards which  will help with your collection.
Level Up: Earn a pack of cards for bringing a class to level 10.
First Blood: Earn a pack of cards for winning a game against a human opponent (in Play mode).
The Duelist: Earn 100 gold for defeating 3 human opponents. This quest is given to you only after you complete the First Blood achievement.
Crushed Them All: Earn 100 gold for defeating all the AI heroes on Expert Difficulty.
Ready to Go!: Earn 100 gold for unlocking every class.
Crafting Time: Earn 95 Arcane Dust for disenchanting a card.
After that, you can start using your gold to buy cards or to unlock some of the Adventure Mode wings. There are certain key cards that will benefit you greatly no matter which class or deck you wish to use. Other class exclusive cards tend to either be class staples or are used for specific decks. If you can, I suggest spending money on unlocking wings. If you're not willing, you can use gold to open individual wings.
Here are some cards to look for from Adventure Mode:
Naxxramas Key Cards
Plague Quarter has both Sludge Belcher and Loatheb, which are excellent 5 mana minions that will serve well in most decks.
Blackrock Mountain Key Cards
With luck, this guide will give you an idea of where to go and how to get started in the game. Hearthstone can be frustrating especially for those without a background in card games. All I can suggest is to keep sticking with it. Don't let game losses discourage you. Either you'll win games or you'll learn from them.