WoW
Mar 28, 2017 2:31 pm CT
Everything you need to know about patch 7.2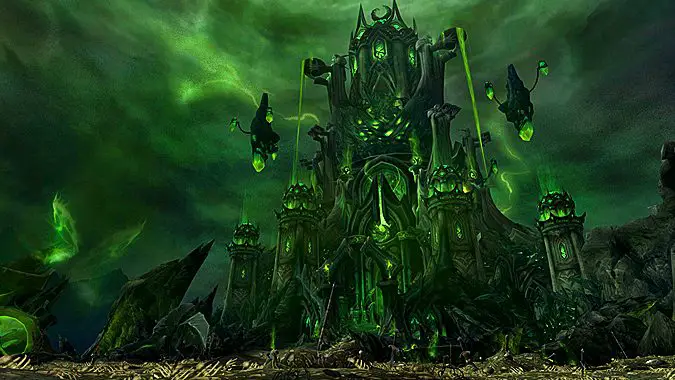 Patch 7.2 is now live and has a slew of things to do. The actual Tomb of Sargeras raid, that the patch is named after, won't be open for a few months at most, but we have all of the events leading up to it. Some events you can start immediately, others like the class mount campaigns will take some time. Also included are class and legendary changes, dungeon and gear increases, and quality of life changes.
Check out the full patch notes here.
Broken Shore
Players will have an introductory quest taking them to the Broken Shore, which will lead to unlocking Artifact Knowledge level 26.
World quests will appear on the Broken Shore as well as a region- and faction-wide effort to construct special buildings with world buffs.
Nethershards from mobs can be used to purchase gear and toys. Gear can be purchased by slot and has a small chance to be the legendary you really want.
Reputations
Reputations now have "paragon points."
Once at exalted, reputations will continue filling a bar. Each time the bar is complete you'll earn a special reward cache that can contain new mounts.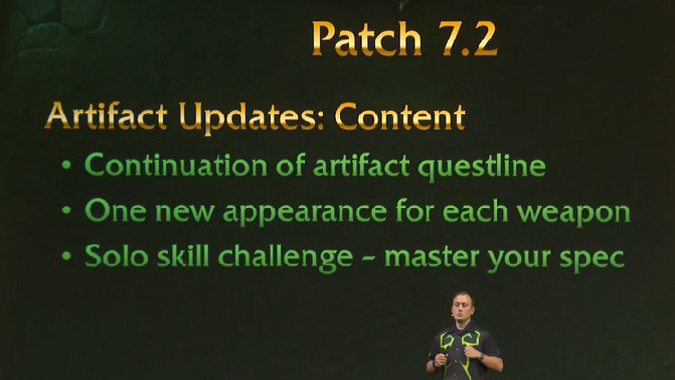 Artifacts
Artifact power above 35 traits will be reset for you following a quest chain. You'll be able to put it into new gold traits or fill out added levels on existing traits. Ion Hazzikostas spoke about the reasoning behind Artifact Power changes.
Another quest chain will teach you Artifact Knowledge 26 if you already have AK 25. If not, you should be able to buy your way up to 25 using Order Resources.
New artifact appearances are available via challenges. These are only available when the Mage Tower building on the Broken Shore is active and will take mastery of your spec to complete, similar to Warlocks' green fire quest in Mists of Pandaria.
Order Hall
Artifact research will open up to a maximum level 50 after reaching level 26 from the Broken Shore quest chain.
New champions are available and an additional champion slot has opened up to accommodate it.
Champion item level has been increased from 850 to 900.
You can acquire your class mounts at the end of the 11 week campaign, similar to the Suramar campaign and the Arcanist's Manasaber mount reward.
Heroic Dungeons
Heroic item levels on gear have been increased, likely around 15 ilvls higher.
Likewise, all dungeons are slightly more difficult to compensate.
New dungeons added to Heroic group finder: Lower Karazhan, Upper Karazhan, The Arcway, and Court of Stars.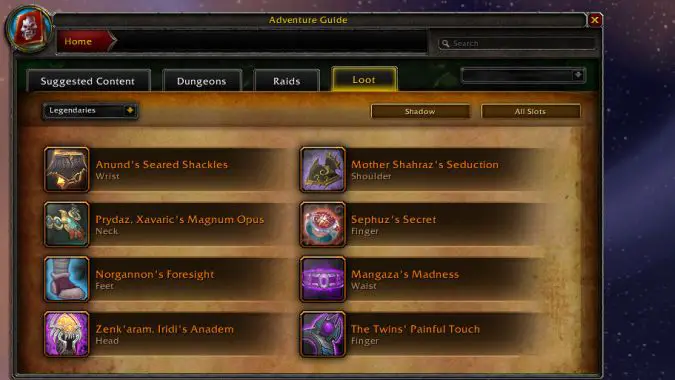 Mythic and Mythic+
New affixes have been added and Overflowing has been removed.
Gear level scaling has been increased as well as dungeon difficulty.
New mythic keystones: Lower Karazhan, Upper Karazhan, and Cathedral of Eternal Night.
Artifact power has been adjusted to make it more proportionate to the dungeon length. I.e. the longest dungeon, Halls of Valor, now awards more AP and the shortest dungeon, Maw of Souls, awards less.
AP will also be in your weekly cache, proportionate to the highest level you completed that week.
Class changes and legendaries
A few tuning changes went through for some classes. Check out the list of spell and animation changes on Wowhead.
Legendaries have had changes to make utility ones more enticing as well as balance changes for others.
Legendary bad luck protection is now spec-based.
You can craft legendaries if your profession is max level. If not, the Darkmoon Faire is next week and profession quests will give you skill points.
Flying in Legion
Soon you'll be able to fly with Pathfinder Part 2. If you're up to date with Pathfinder Part 1, the longest part will be getting to Revered reputation with Armies of Legionfall, which should take a couple weeks according to the dev Q&A stream. You also need to complete a Legion invasion in each zone and explore the Broken Shore. You can check your progress on Pathfinder Part 1 with Wowhead's Flying Tool.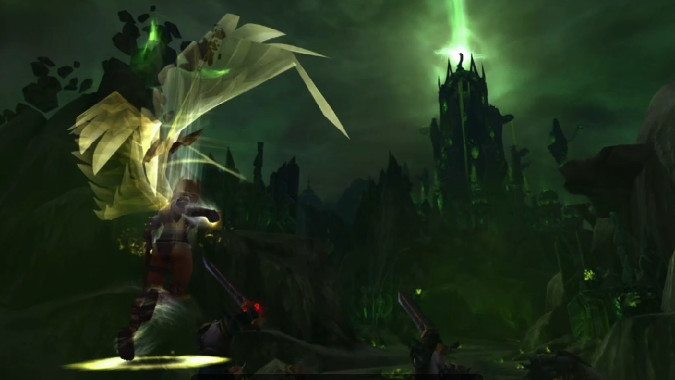 Quality of life changes
Transmog interface now tracks tier sets, along with a slew of achievements added for a cool "Stylist" title. You can also search through your appearances by dungeon or boss name.
Tier tokens from Tier 5 (Serpentshrine) to Tier 16 (Siege of Orgrimmar) have been updated to activate on right-click like current tokens.
Items from Burning Crusade and Wrath of the Lich King PVP sets have been re-added to vendors.
Blood of Sargeras vendor now sells items in multiples. No more clicking for each item, or using an addon, or using a macro.
Equipment manager now lets you assign sets per spec, similar to Outfitter addon.
Spells that aren't on your action bars are highlighted in the spell book, making it easier to figure out what you're missing. Likewise, mousing over a spell in the spellbook will highlight it on your action bars.
Pet spells can be dragged onto your action bars.
The mailbox now has an "Open All" button, similar to Postal addon.