Lead PVP Designer Brian Holinka is leaving World of Warcraft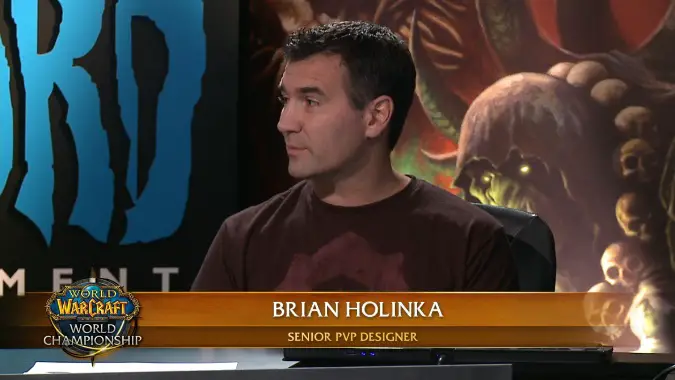 Brian Holinka, the face of World of Warcraft PVP for the past 5 years, just announced that his time on World of Warcraft has come to an end. As the lead PVP Designer, Holinka changed the face of WoW PVP time and again, with the most recent changes to PVP being the biggest overhaul yet. More often than not, he was met with ire from the community, even to the point of receiving death threats.

Holinka had a good sense of humor, despite the hate.
Personally, I've always admired Holinka for managing to stay not only sane, but positive in the face of all the negativity. Regardless of your feelings on PVP, the level of hate he could receive at times was more than anyone in his position deserves. Time will tell what exactly his next role at Blizzard will be — likely the secret project that's been taking away big names at Blizz for a while now — but in the meantime, we wish him the best of luck!
You can read his official goodbye post below:
Five years ago, I received a phone call from Blizzard offering me the chance of a lifetime—a position on the World of Warcraft team.
Simply put, this is my favorite game of all time, and working on it these past five years has been a dream come true. I have learned so much from the women and men who make it and everyone who plays it. I feel fortunate to have had the opportunity to work on a game that so many people around the world are so passionate about.
A few weeks ago, I was offered a new opportunity at Blizzard that I'm really excited about. Tomorrow is my last day working on World of Warcraft.
As a longtime player, I couldn't be more excited about what the future has in store for World of Warcraft. In particular, the PvP team remains hard at work on some incredible plans. I fully expect that the best years of World of Warcraft PvP are ahead of us.
Thank you to everyone involved with World of Warcraft, from the development team to the players, for letting me be a part of this game's community. I consider it a great privilege.
Brian Holinka