BlizzCon 2017 Early Access Gear Sale is now live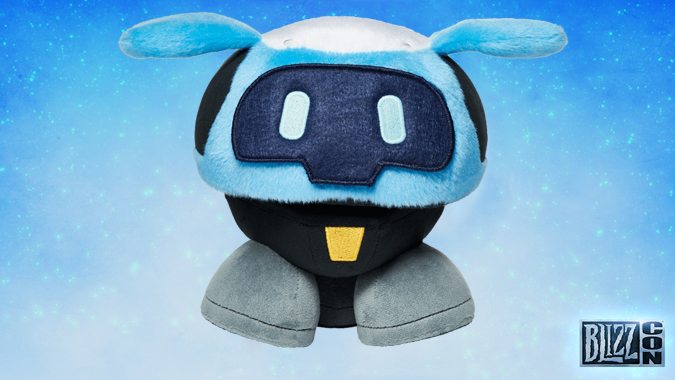 It looks like Blizzard wasn't quite done when they announced the rest of this year's in-game goodies. Shortly after, the annual pre-sale for BlizzCon gear went live. Virtual Ticket and convention ticket holders will have exclusive access for the next week to get their swag ahead of time. On October 17, the sale will open up for everyone. It will run through BlizzCon and convention goers should also be able to place orders during the convention to pick up goodies like last year.
In addition to the usual key art and blind pin and vinyl series, the store added a ton of new swag. Overwatch is the main point of attraction this year, dominating the Cute But Deadly blind vinyls and most of the Series 4 blind pins. Overwatch has everything from Mei's adorable yeti slippers to a pachimari shirt to an ugly holiday sweater. Guys, there's even a Snowball plush with velcro face patches and a Sombra pillow. Some of the coolest new apparel may be the ultimate hoodies, available in D.Va, Genji, Lúcio, Reinhardt, Roadhog, and Zarya flavors. D.Va even comes in blue or pink, kind of like Sleeping Beauty's changing dress.
We really can't overlook the plushies. World of Warcraft gets an elekk and raptor plushie to commemorate the Elekk Plushie and Souvenir Raptor. For all you Pepe fans, there's a new Pirate Pepe version to match your Tiny Pirate Hat. There's also more of a focus on the esports side of the games, with merch for StarCraft world championship, Heroes of the Storm global championship, and Hearthstone championship tour.
If you already got your Virtual Ticket, you only need to log in to access the sale. If you haven't had a chance to pick it up yet, just head on over to Blizzard's store and your account will be automatically flagged as soon as you make your purchase or redeem your code. You can check out all of this year's goodies in the BlizzCon section of the gear store.