Take a look at all the treats in the BlizzCon 2018 goodie bag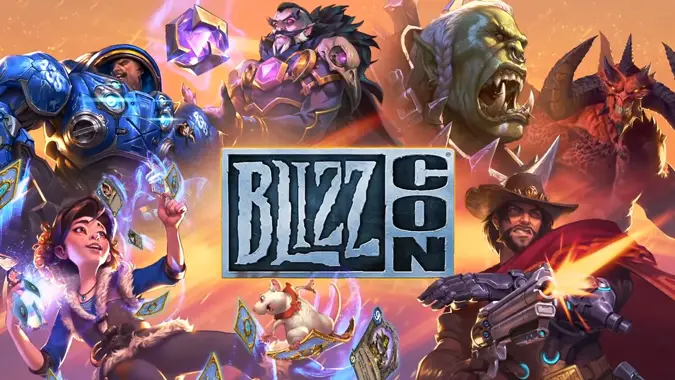 With BlizzCon 2018 just around the corner, one question has been on everyone's minds: What's in the goody bag? Each year there's a different selection of both physical and digital surprises for attendees, and Blizzard has finally revealed what's in store for those headed to the convention in November. Wowhead got their hands on this year's goody bag — or more correctly, the goody box — to share photos and details.
As in previous years, there's something from every franchise. In addition, this year includes a book which isn't so much about any one particular franchise as it is about BlizzCon itself.
Diablo: Classic Diablo vinyl figure
Hearthstone: Magnet set
Heroes of the Storm: Raven Lord crest magnet
Overwatch: Challenge coin

StarCraft: 20th anniversary pin

World of Warcraft: Faction keychain

The BlizzCon Book: A Celebration of our Community
In a departure from the last few conventions, this year's offering doesn't include a messenger bag or backpack. However, there's not a pile of heavy things to cart around this year, either. The book is immediately interesting, because it's about the history of BlizzCon — it's a nice little hardcover art book, featuring facts, photos, and key art from every BlizzCon since 2005. Included in the back of the book is key art from this year's convention, featuring McCree, the Raven Lord, Saurfang, and more.
Also of interest is the Diablo Vinyl Figure, as speculation has run rampant over the last several month in regards to the future of the Diablo franchise. After August's casual drop that there are multiple Diablo projects in the works, as well as the announcement that Diablo 3 is headed to the Switch, one has to wonder if we'll get another announcement in November as well. Does a Classic Diablo figure mean that Diablo might be getting the StarCraft Remastered treatment? Maybe, maybe not — but hey, it can't hurt to indulge in a little more of all that speculation.
Magnets, coins, keychains, and pins seem to be the bulk of the goodies this year. Heroes has a nice-looking Raven Lord magnet, but I really love the Hearthstone pieces — especially the word balloons. The Overwatch Challenge Coin is more of a collector's piece than anything, similar to the Mark of Allegiance found in Battle for Azeroth's physical Collector's Edition. The WoW keychain is a clever little two-sided number with a spinning centerpiece so you can properly declare your allegiance to whichever faction you choose. As for the StarCraft pin…well, it doesn't have me terribly excited, but I'm pretty sure pin collectors are going to be happy to add this one to their collections.
At the moment, we still don't know what the digital goodies are going to be for this year's BlizzCon, but tomorrow's BlizzCon 2018 All-Access Kickoff show should clear up at least one of those items. The stream starts at 3pm Pacific, and along with some free debut episodes for BlizzCon and Virtual Ticket programming, they'll also be revealing the in-game Overwatch item. Virtual Tickets to the show should be going on sale soon, so keep your eyes peeled to get your hands on the digital goodies and all the BlizzCon coverage.
And if you really like the look of those physical items in the goody bags but you aren't headed to BlizzCon 2018, don't worry, you'll have an opportunity to purchase those as well. The physical goody bags will once again be available on the Gear Store, and if you purchase a Virtual Ticket you'll get $10 off the purchase price. Head to Wowhead for a closer look at all the goodies, and prepare yourselves — BlizzCon 2018 kicks off November 2.