WoW
Nov 16, 2018 10:00 am CT
Did somebody say [Thunderfury, Blessed Blade of the Windseeker]?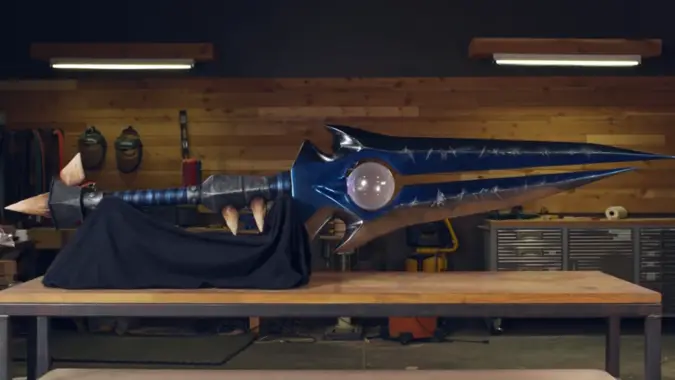 Seriously, I thought I heard someone say [Thunderfury, Blessed Blade of the Windseeker].
Cosplay is huge these days. More and more people are putting hours on hours of work into becoming their favorite characters from television, movies, and games. My favorite part of cosplay is seeing the process behind every bit of armor and weapon. The work that goes into appearing as Malfurion or making a Symmetra costume is astounding. Some cosplayers start working on their costume as soon as they get home from BlizzCon!
Not everyone can have a fully functioning forge to make their props out of iron and steel though. Rooster Teeth's series Master and Apprentice takes us into their shop and shows the kind of work that goes into making something as amazing as a life-sized [Thunderfury, Blessed Blade of the Windseeker] — without needing a pneumatic hammer.
This is a very challenging build, so novice cosplayers might not want to pick this as their first project. Marcus is a professional production designer with 17 years in the film industry, and it shows. Blizzard was kind enough to invite them onto campus for an interview with Alex Afrasiabi, who created the quest chain in World of Warcraft that gave you [Thunderfury, Blessed Blade of the Windseeker]. Remember that the next time you're in Molten Core and the binding you need doesn't drop. They also take an opportunity to look at the Doomhammer, Ashbringer, and Gorehowl replicas made by Tony Swatton and the gang at Man at Arms.
I'm blown away by not only the attention to detail but also how they're able to make a piece of balsa wood look like an Elementium sword blade. Automotive paints might be out of the typical price range of cosplayers — but you can't argue with the results. The final blade is shiny and chrome and looks like it'll last into eternity.  They even go and add chips and scarring along the blade to give it a battle-worn look. After all the work that was put into cutting the blade out of the wood, I don't know that I would have the heart to scratch it like that.
The piece de resistance is — of course — the plasma ball set into the blade. Since caged essences of Elemental Lords are a little hard to come by, they went with the next best thing and used a plasma ball, which they incorporated into base and leather-wrapped hilt.
In the end, they've created a stunningly faithful recreation of [Thunderfury, Blessed Blade of the Windseeker] that is actually liftable by a human being. Just don't take it to slay Ragnaros — the blade is only wood after all.