News
Dec 25, 2018 3:00 pm CT
The most festive community creations for the Winter Veil season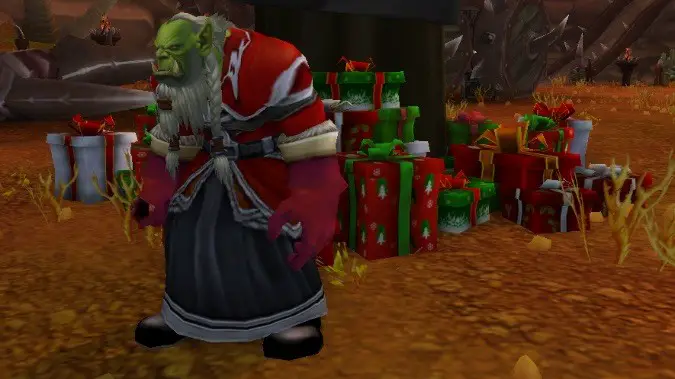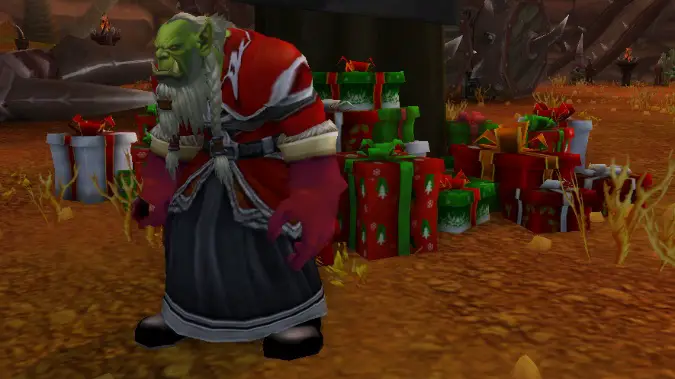 It's Winter Veil! In World of Warcraft cities from Ironforge to Dazar'alor are decked out with their fanciest decorations, the heroes of Overwatch are hunting Yetis and throwing snowballs, and all throughout the Nexus people are  playing with their toys. Yet the festivities aren't confined to the games that we play.
The Blizzard community is packed full of talented and creative individuals. People have taken their love of the holidays and combined it with their love of all things Blizzard.  Artists and animators have joined in on the fun to spread a little holiday cheer and keep spirits merry.
A winter's ball
Faebelina is an amazing artist who has started a joyously seasonal project: a formal Winter's Ball for all of your characters to attend. This isn't the first Ball she's thrown: the last one was just after we defeated the Burning Legion. Now it's time for the Horde and Alliance to put their differences aside and engage in a lovely evening of dancing and merrymaking. They've all come dressed to impress and look stunning. If you're interested in joining in — or seeing what everyone else is wearing — just look up the hashtag #WarcraftWintersBall.
You guys wanted a Winter ball, so here it is! :D Use the hashtag #WarcraftWinterBall to show off your characters in their winter finest! Now through January 5th! pic.twitter.com/Sp64FkDdJY

— 🦋Faeb🍃 (@Faebelina) December 14, 2018
Artist Bex knows that Anduin would take the opportunity to try and reach out to Sylvanas with a thoughtful present. Surely the right gift could warm her cold heart. And luckily she knows if you're still doing some last, last minute gift shopping you can't go wrong with pet supplies.
Anduin and Sylvanas give Winter Veil a shot. #Warcraft #anduin #sylvanas pic.twitter.com/nqNguIRg9E

— ✨Bex💙 (@formbextron) December 18, 2018
I wouldn't normally condone giving someone a pet as a gift, but an Undead puppy will probably stay a puppy forever. Plus who wouldn't want to get a dog named Harrison Bones?
Sylvanas gives Winter Veil one last shot. #Warcraft #worldofwarcraft #anduin pic.twitter.com/9m9YbkUdc5

— ✨Bex💙 (@formbextron) December 24, 2018
Bonus: pic.twitter.com/4cVyUzvg1b

— ✨Bex💙 (@formbextron) December 24, 2018
There's still time to adopt Whomper and have the proceeds go to charity! You have until Dec. 31st for 100% to go to code.org. After this comic, how can you refuse? Every Yeti should have a home for the holidays.
🎵 "It's the most wonderful time of the year…" 🎵

🎨 Fanart by: @weremagnus
➡️ Adopt your own Whomper: https://t.co/oL9tj6oZxQ pic.twitter.com/YIuv5qdgje

— World of Warcraft (@Warcraft) December 21, 2018
What do Alexstraza, Illidan and a Murloc have in common? If you'd asked me yesterday I would've said nothing — but now it's obvious they all love Winter's Veil! Those horns make for a good place to string some lights, but I wouldn't trust any Demon Hunter to sit still for very long.
Illidan, Alexstrasza and a Murloc (!?) are rocking around the Winter Veil tree! 🎄

🎨 Fan art by Noura https://t.co/3LJgylRog4 pic.twitter.com/SDjNbjCBZJ

— World of Warcraft (@Warcraft) December 23, 2018
Pepe might not have a jolly hat in game yet, but now that I've seen this I hope that he gets one soon. Maybe that can be under the tree next Winter's Veil. He looks so happy to be part of the celebrations. Of course, I'll also need a Headless Horseman Pepe for Hallow's End.
Pepe the Harbinger of Winter Veil

LOOK AT HOW FLOOFY! #WorldofWarcraft #BattleforAzeroth #RedWinterHatPepe pic.twitter.com/XyvG2Efhum

— Justice (@EchoofJustice) December 11, 2018
Over-watch who's coming down the chimney
Animator Justin has possibly teased the next hero to show up in Overwatch — Santa Claus. His kit would probably include some time-based effects like Tracer. How else would he manage to make it to all those houses in one night? I can't wait for his alternate appearances — you could probably get a lot of mileage out of putting Santa in other holiday get-ups.
Speaking of cookies, these look like you could eat them in real life! They're anything but E-Z mode when it comes to decoration though. Now all she needs is a gingerbread MEKA and she's ready to take the fight to some Omnics.
https://t.co/SCzk7TGj6u cookie boss battle!

My super talented sister made these awesome cookies 😍🤗😍 @PlayOverwatch pic.twitter.com/gubjVu1P5z

— Stylosa (@Stylosa) December 19, 2018
While not a new offering, Jeff Kaplan's yule log stream last year was an instant classic. Watch along as he deals with errant boom mics, engages with some community memes, and announces Brigette a few months before her official release! The more conspiracy-minded of you will claim that he wasn't actually sitting in the chair for all ten hours, but I believe that he would do anything for the Overwatch community.
And of course we can't forget this year's stream with Matt Mercer (and more)!
Is one of your Warcraft characters going to the Winter Ball? What's your favorite piece of art for the season? I love seeing everything that fans create around these games and this only scratches the surface of what's out there.