Shadowlands will completely change how you play alts in WoW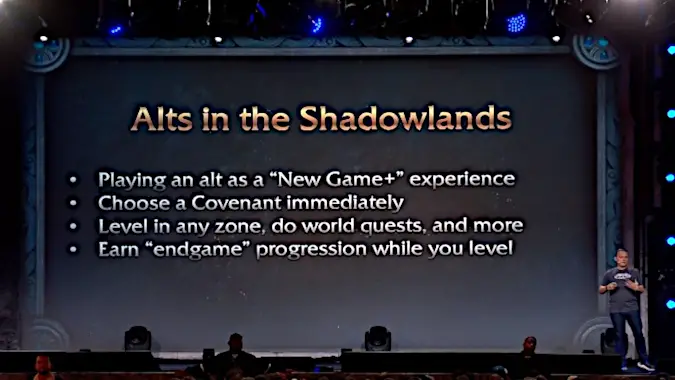 The opening day of BlizzCon has given us a ton of new information regarding the future of World of Warcraft, and one of the most exciting announcements is a fundamental change to how alts will play in Shadowlands.
First: Shadowlands' Covenants are meant to be expansive stories similar to the War Campaigns in Battle for Azeroth. However. You'll pick a Covenant at max level and work your way through its story and content — but only for your first character doing so.
The big news here is that alts will be treated like a New Game+ experience for players. If you haven't played a game with this kind of feature before, it gives your characters a leg up on content when you're playing through for the second (or third, or fourth) time. Instead of waiting for max level to choose a Covenant, your alts can choose any of them immediately. You'll be able to level in any zone, which by itself isn't new, but you'll have access to world quests right away. They've also said that we will earn "endgame" progression while we level, however the exact details of what that actually means is yet to come.
This is great news for those of us that have been feeling discouraged from playing alts, which have been particularly tough in Battle for Azeroth with the need to grind out Azerite power and Essences for every character. The changes in Shadowlands seem like a great way to encourage not only the leveling alts again, but enticing players to play through the other Covenant stories by making them easier to access. I don't know about you, but I'm looking forward to dusting off my alts and getting ready to experience all of the stories Shadowlands has to offer.