WoW
Jan 14, 2020 4:14 pm CT
Anduin punches the physical embodiment of sexiness in new patch 8.3 cinematic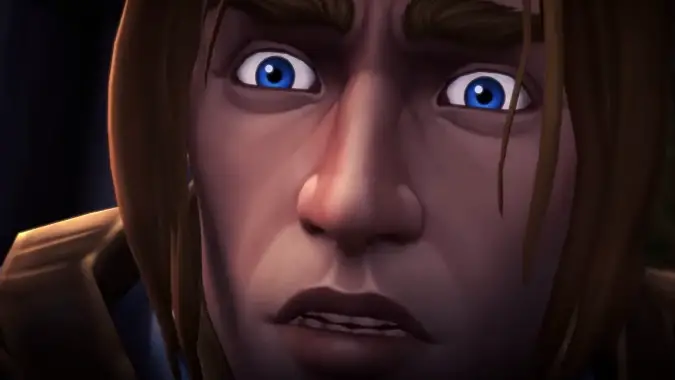 As the servers came up for World of Warcraft's latest — and apparently final — major patch of Battle for Azeroth, two new cinematics surfaced to set the stage. One was a promotional cinematic, posted to Blizzard's social media. The other made an appearance in-game, shortly after logging in for patch 8.3.
Both contain spoilers, so consider this your exit ramp before they occur.
The first cinematic, the promotional video to set the stage, contains voiceover and parts of the second. In it, we see that everyone's favorite dragon Wrathion had one heck of a glow-up over the past few years. He's on hand to explain the dire situation to Anduin and train him — and us — for the trials ahead. We see images of some of the sites we'll be visiting soon, painted over in the red and purple of the Black Empire. As the cinematic goes on, we begin to hear voices, piled on top of each other, all dire warnings and whispers. It gives an excellent sense of the mind-bending danger we're about to jump right into.
The second cinematic is a story beat straight from the game. Players get the quest when they log in for patch 8.3, and it varies very slightly based on faction — Valeera is your point person for Horde, while Magni instructs Alliance players to speak to Anduin directly. Magni brings Wrathion to see Anduin, and Anduin decks Wrathion square in the jaw. Wrathion tells Anduin that part of the difficulty of fighting N'Zoth is the fact that N'Zoth will corrupt your very nature, like if say hypothetically you're a pacifist to a fault and then you're going around punching your former BFF, Anduin.
It drives home a similar point to the patch trailer, but in a more character-driven way. The suspicion with which Anduin briefly regards Magni and Baine, done wordlessly with just a slight color tint, is both subtle and dramatic. N'Zoth is going to be very difficult to defeat, and it's going to be hard for these heroes to trust anyone, even themselves.