WoW
Aug 5, 2020 2:04 pm CT
This is how Heirlooms and other XP boosting effects will work — or not work — in Shadowlands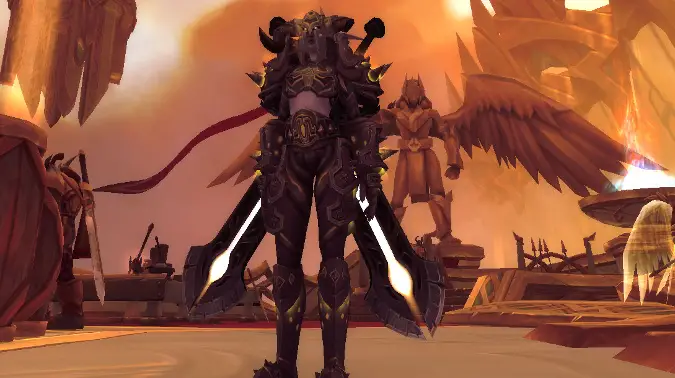 We all knew that Blizzard was going to do something to heirlooms when the level squish and leveling changes came in Shadowlands, the upcoming World of Warcraft expansion. And now we finally have concrete details on how that's going to work. The answer is that heirlooms will be changing dramatically, but while they'll no longer provide bonus experience, they will still provide a benefit for players who have and use them while leveling up.
This is due to the increased speed of leveling in Shadowlands. CM Linxy specifically stated that leveling is twice as fast in the new leveling scheme, which means that everyone essentially has the XP bonus from full heirlooms baked in and then some, making the need for heirlooms to get to max level on an alt not nearly so pressing. However, if you're currently upset that you're losing the XP bonus on your wide collection of heirlooms, don't panic just yet. There's a series of new set bonuses for heirloom items to make them still grant a benefit for players who've collected them.
We want to ensure that players' investment in these Heirlooms continues to offer unique benefits while leveling, so we're planning to replace the experience bonus on Heirlooms with unique Heirloom set bonuses.
(2) Set: Rested experience consumed is reduced by 30%.
(3) Set: Increases your out-of-combat regeneration in the outdoors, normal dungeons and battlegrounds.
(4) Set: Gaining a level triggers Burst of Knowledge, dealing Holy damage to nearby enemies and granting you 40% primary stat for 2 minutes. Defeating additional enemies extends this effect, up to 2 additional minutes.
(6) Set: Rested experience consumed is reduced by an additional 30%.
And the revamp to the leveling experience won't just affect heirlooms, but items such as the various XP potions. These will no longer work at all, save for one — the Draught of Ten Lands will still provide the 10% XP bonus, but will be capped at level 50. No other XP bonus potion will remain — the Elixir of Ancient Knowledge, Elixir of the Rapid Mind, and Excess Potion of Accelerated Learning will become poor quality and unusable. In addition, the Monk daily quest that grants you Enlightenment XP buff will still grant a buff, but instead of bonus XP, it will grant extra rested time. This is still functionally an XP buff, since you gain twice as much XP when rested, but it means you can't just stack XP buffs on top of each other,
I can't say I'm surprised to see the changes, and it remains to be seen if the set bonuses above actually make it to the live game — I intend to test it out on the beta as soon as I can, and I'm hopeful the buff to rested XP still feels worthwhile. I'm also not surprised about the XP consumables getting taken out, either — I'm more surprised that the Draught of Ten Lands stayed in.
Time to get testing on the beta and see how this all shakes out.