WoW
Aug 20, 2020 2:00 pm CT
Set bonuses we think might be fun to see on Heirlooms when they lose their XP bonus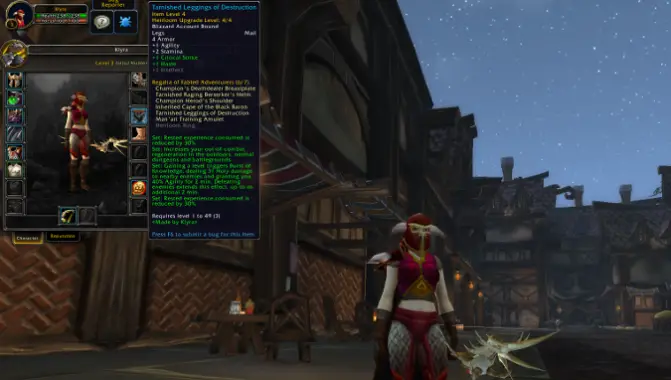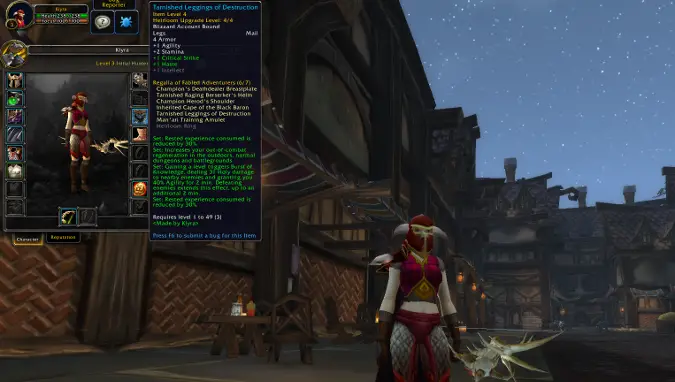 So I'm still thinking about those Heirloom set bonuses coming in Shadowlands — or at least the pre-patch for it, when the level squish is slated to happen. While I personally like them, I'm not 100% sold on the kill streak style bonus that engages when you level up wearing the Heirlooms. I think it will probably work well, but since we still have some time before it's implemented, I'm willing to speculate about what might work better, or just some other interesting ideas. Even if the set bonuses go live exactly as they're currently presented it's worth musing about, because we could always get new Heirlooms with entirely new set bonuses as a reward or incentive for content in the future.
So let's look at the set bonus and discuss what works and what we'd improve.
The bonuses we have aren't bad
We want to ensure that players' investment in these Heirlooms continues to offer unique benefits while leveling, so we're planning to replace the experience bonus on Heirlooms with unique Heirloom set bonuses.
(2) Set: Rested experience consumed is reduced by 30%.
(3) Set: Increases your out-of-combat regeneration in the outdoors, normal dungeons and battlegrounds.
(4) Set: Gaining a level triggers Burst of Knowledge, dealing Holy damage to nearby enemies and granting you 40% primary stat for 2 minutes. Defeating additional enemies extends this effect, up to 2 additional minutes.
(6) Set: Rested experience consumed is reduced by an additional 30%.
Up front, I really like the 2 and 6 piece set bonuses and wouldn't remove them, I think the 3 piece bonus is very good for a leveling set, and honestly I think the 4 piece is a lot more interesting than some people thought it was at first — myself included. It does limit the benefit to when you level, and my testing of the bonus indicates that you can only extend the buff an additional two minutes total unless you level again, which makes it pretty excellent for a level 1 to 10 character as the levels come pretty quick for those first few levels. The 2 and 6 piece are, of course, only good if you actually have some Rested XP, so not very good for a character you just rolled up.
My advice if you're intended to level a character in Shadowlands from 1 to 50 is create them now and park them in an inn or other place where you'll earn Rested XP, that way when the pre-patch starts you'll be ready to go.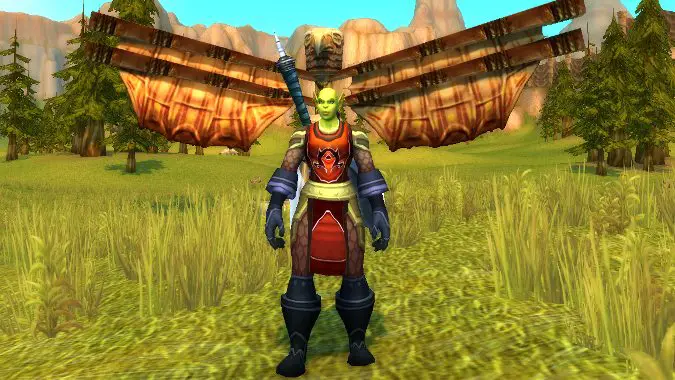 But why not dream of other stuff?
But let's talk about what kind of set bonuses we might want instead of the ones we have. One idea that comes to mind is an Heirloom tanking set. The 2 and 6 piece could stay the same, and the 3 piece works fine for a tank — more out of combat regen is never bad. But instead of a kill streak, what if your Heirlooms gave you a progressive damage shield effect that reset every 40 seconds, absorbed a certain amount of damage, and got a bonus on top of that based on how low your health was? So if you were taking a beating and were down to 30% of your max health, you'd get an additional 20% to that damage shield effect. This one would be always on, so it's not only good when you're about to level, but it's not a game breaking buff that adds to your damage. It's literally just a bit of extra tankiness, and that's what you want when you're learning to tank on an unfamiliar alt.
Another possible set bonus that comes to mind would be to go whole hog for the idea that these Heirlooms resemble sets from the past of World of Warcraft by literally having each set give the exact same set bonuses that their lookalike original sets did. So, as an example, if you were wearing the pieces from the Valor Heirlooms, you'd get the set bonuses from the Valor set, scaling to your level.  So it would be
(2) Set : +29 Armor.
(4) Set : Increases Strength by 19.
(6) Set : Chance on melee attack to heal you for 77.
(8) Set : Reduces magical damage taken by 5%.
You'd want all these sets to scale, of course, since you could be wearing them all the way up to level 49 which seems to be the current top level for Heirlooms in Shadowlands. You could do this for every single one of the older sets, like the Lightforge, the Beaststalker set — all of the old school set armor. We could even get new Heirlooms like the Heroism set, the various Tier 2, Tier 3, etc etc raid sets, and if the Heirloom set bonuses are a trifle overly specific, we can adjust them as needed.
I think it would be pretty cool if Heirlooms brought back those old school set bonuses, even if they don't really work in the current game. But I'm curious even more so about what you think about what's going to come for Heirlooms in Shadowlands and what ideas you have for set bonuses on those Heirlooms.