Diablo 4 will let you customize your mount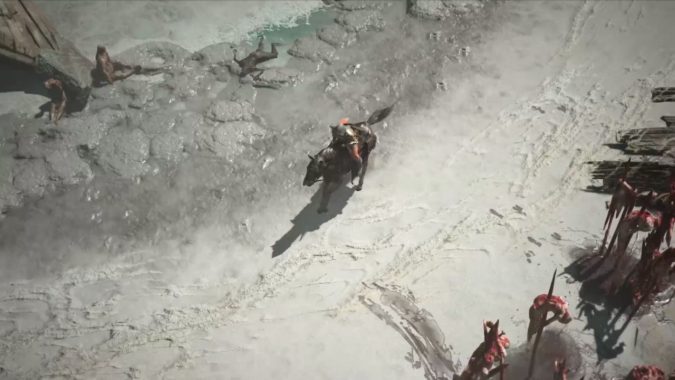 In the Diablo: What's Next panel at BlizzConline, game director Luis Barriga gave a lot more information about mounts in Diablo 4, including the ability to personalize them. With the game's massive open world, getting around on foot will no longer cut it. So for the first time, as we learned at last year's BlizzCon, we'll be able to mount up in Sanctuary, as well as launch devastating dismount attacks when we approach enemies. The newly announced Rogue class, for example, leaps out of the saddle and launches a gloriously robust barrage of arrows at foes.
Barriga touted the "collection aspect" of mounts. Different types of mounts can be obtained by completing specific types of game content — completing puzzles, finding hidden locations, or murdering certain monsters, for example. You'll also be able to collect items that let you customize your mount, in terms of both appearance and gameplay. Different types of armor will be available, as well as "trophies" that let you show off your accomplishments in the game — although Barriga didn't expand on exactly what trophies are.
You'll also be able to equip your mount with items that enhance its attributes, including horseshoes that grant a faster run speed. For old-school gamers, the phrase "horse armor" brings back nightmares of The Elder Scrolls IV: Oblivion and the birth of micro-transactions in gaming. No doubt Blizzard will find ways to monetize mounts in Diablo 4 as well, even if just tangentially in Collector's Editions.
For now, the mounts shown were limited to various horse breeds, including an extra-spooky skeletal horse. I imagine that Diablo 4 will eventually have a wide lineup of different mount species. Personally, I want to be carried around in a treasure goblin sack.
One of the major things that keeps WoW players hooked is the incredible array of mounts that can be earned in that game. In terms of unlockable vanity items, mounts are one of WoW's most popular rewards. The Diablo 4 team seems to be banking on that kind of motivation working for Diablo players, too. I think they'll be right, especially if mounts are as essential to open-world exploration as the team has implied.
Extensive personalization has been a hallmark of Diablo 4 ever since it was first announced. It's great to see that mounts will be no exception.