The Auction House may be returning to WoW Companion app but only for select items
The final patch of Battle for Azeroth, 8.3, finally delivered a much-needed overhaul to the Auction House that players have been wanting for years. While the change has been largely celebrated — despite the occasional glitch — it didn't restore the mobile Auction House functionality that was removed a couple years prior. Some of us had our fingers crossed that the updated WoW Companion app might bring mobile AH back when implemented prior to Shadowlands, but alas, it did not.
There's a new hope, however, courtesy of the 2021 BlizzConline World of Warcraft Q&A. When asked if there were any plans to bring the AH back to the Companion app, executive directory John Hight gave an answer best described as "probably, but." After discussing the reasons why it was removed in the first place — it wasn't getting much use, it was extremely vulnerable to exploits via automation — Hight acknowledged the convenience of a remote AH app especially in terms of preparation for events such as raid night. As a result, it sounds like Blizzard is intending to re-add mobile AH to the Companion app in a limited capacity at some point in the future.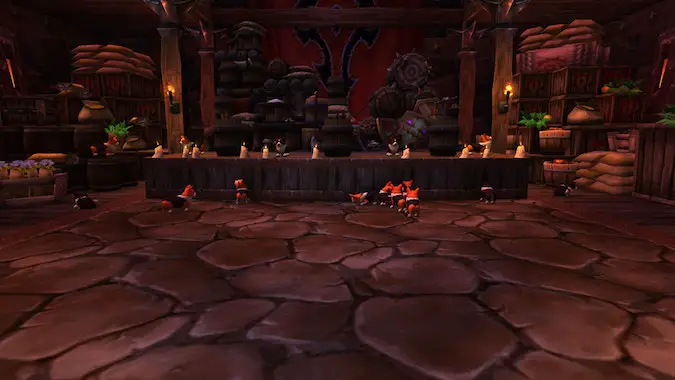 Don't hold your breath, and don't hold on to your sellable transmog items
There was no specifics given, so expect its return Soon™ — possibly in 9.1.5, or possibly not until three expansions from now. The fact that it's going to be limited does tell us that it likely won't be a full version of the AH like in the past; based on the example given, I would expect that what you can trade would be limited to stackable items in the categories of Gems, Item Enhancements, Consumable, Glyphs, and Trade Goods.
These types of goods aren't immune to the problems that plagued the prior version of the app, so I expect that Blizzard will attempt to prevent any exploitation of the new implementation. One option would be through changes in the interface that make automation harder or impossible, but a more direct approach would be to only allow purchases through the mobile app. Doing so will make it a lot harder for bots to work the system, but it would also drive prices up — which the exploiters would then take advantage of, just not as easily — and potentially turn off casual users who yearn for the return of the old app.
Personally, I hope they recognize that some countermeasures may backfire, and instead bring back full functionality. It's certainly possible that the recent overhaul of the AH along with some technical changes could mitigate enough of the risk that the players benefit — I guess we'll find out, someday.