WoW
Jul 12, 2021 4:00 pm CT
How to find Maelie the Wanderer and the other time-gated mounts in Korthia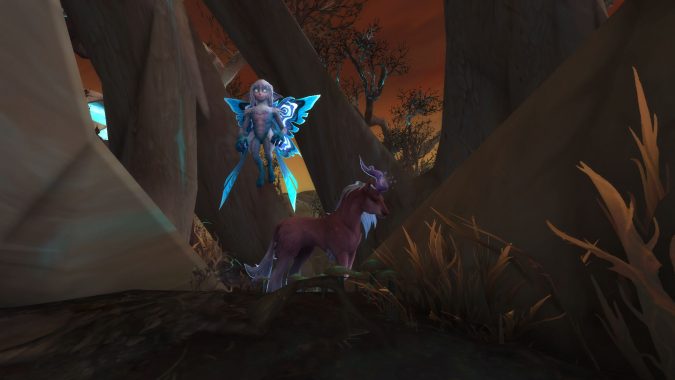 Shadowlands patch 9.1 brought a lot of changes to the Maw, including the highly-desired ability to mount without being a druid or obtaining any of the three mounts that previously helped you  bypass the restriction. The new zone of Korthia brings with it new mounts to acquire, including three mounts that don't require beating long odds in order to acquire. Instead, the Dusklight Razorwing, Darkmaul Shardback, and Maelie, the Wanderer each require several days of collecting to unlock — RNG is still present, but a lot more tolerable than the sub-5% chance that most drop mounts possess.
Of these, Maelie has been the most frustrating as bugs and unclear instructions have necessitated blue posts to bring clarity to the process. The NPC who is concerned about Maelie — a faerie named Tinybell, located in the Keeper's Respite sanctuary — will call to you when Maelie is spawned and progress is able to be made:
This is the indication that you should be looking for her — not the conversation you can have with Tinybell any day, which makes it sound like she's up even though she may not be. When she is up, she can spawn at one of almost a dozen locations (this information is still being gathered, but current map coordinates are detailed in Wowhead's guide), but normally asking once or twice in General Chat will result in a helpful soul pointing the way. The nice aspects to the Maelie acquisition are that when she does spawn, she spawns in the exact same location and does not despawn when another player has interacted with her, and she doesn't require any additional materials like the Friendly Alpaca did — just give her a pet and you've checked off one of the six days you're required to find her before you earn her as a mount.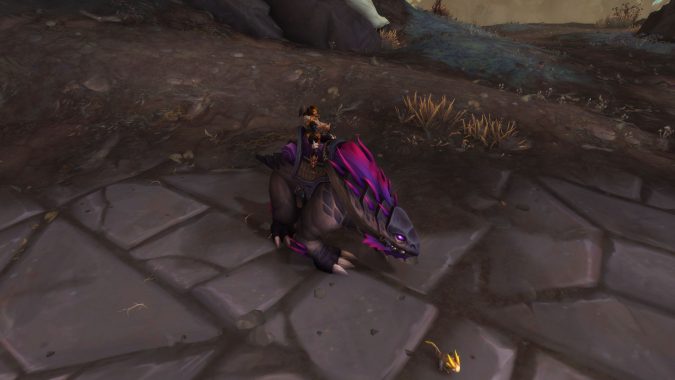 Farming eggs and mawshrooms for mounts
The Dusklight Razorwing and Darkmaul have simpler and similar requirements, each needing 10 macguffins to obtain. The Razorwing is actually the matriarch, and she rewards you for returning 10 of her lost eggs with herself as a flying mount, while Darkmaul will become your friend after you've tempted him with 10 tasty mawshrooms. Unfortunately, it's never quite as simple as gathering and getting these days, so there are some limitations.
For the Razorwing, the eggs have a hard daily maximum when it comes to acquisition — you can only get 2 per daily reset no matter how many devourers you kill. A total of 5 days isn't all that bad, although the drop rate is low so you'll need to farm the devourers hard just to get your 2. Fortunately, many people have started egg farming groups in the groupfinder, which is more efficient than farming them yourself, so if you want the mount you should start now while the interest is high. Once you've collected the eggs, simply deposit them in the matriarch's nest (found in the far west of Korthia) and the mount is yours.
Darkmaul's mechanic is similar, although instead of a daily limit of mawshrooms you can acquire, you can only loot a Invasive Mawshroom "treasure" 5 times a day, with a ~15-20% chance of getting the correct mawshroom from it. So if you're exceedingly lucky, you can get all you need in 2 days. More likely it'll take one to two weeks, depending on how aggressively you look for the Invasive Mawshroom treasures to loot. After you've enticed Darkmaul with the mawshrooms to let you ride him 10 times, he's yours.