WoW
Nov 10, 2021 4:30 pm CT
How to get a Broker Mark of Distinction and send your alts straight to 40 Renown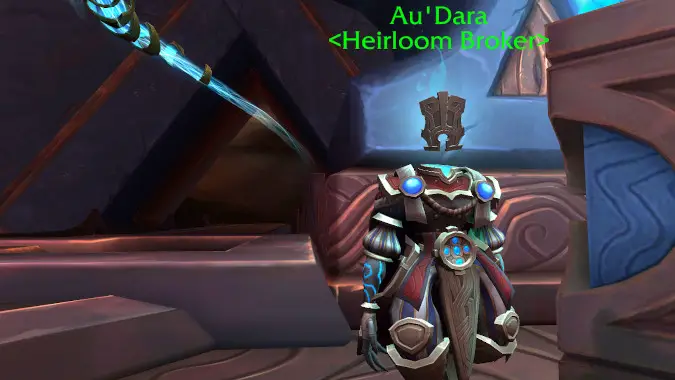 World of Warcraft's patch 9.1.5 has made catching up on your alts easier than ever. Among the many, many quality of life adjustments — several of which are aimed at alts — you can now easily purchase a Bind on Account token that allows you to boost any character to 40 Renown, instantly.
This token, the Broker Mark of Distinction, is sold by Au'Dara, a Broker NPC. She's standing right next to the Flight Master at the Ring of Transference in Oribos, so she shouldn't be difficult to find at all. The token only costs 500 gold, which seems like a very reasonable price for such an enormous time saver. There's only one snag: you need to have one character at Renown 80 in order to buy it.
Boosting to Renown 40 will give any character you want instant access to a lot of their Covenant goodies, including their first title, their first mount, and a huge chunk of Anima. And that's true not only of level 60 alts: remember that any character level 50 or higher who has decided to level through Threads of Fate gets to pick their Covenant early. Well, here's the good news: this token works for them as well. All of your alts now have the option to begin their leveling journeys in the Shadowlands at Renown 40, meaning that they can start accruing lots and lots of Renown as early as level 50.
And remember that this is not only useful for alts: if you plan to change Covenants on your main — which has been made very easy on this patch as well — this token will also work for them, allowing you to start your progress on your new Covenant at Renown 40 instead of 1.
When you visit Au'Dara, make sure to check out her whole inventory, though: besides this amazing token, she also sells several other items of great interest to players who wish to have their alts catch up to recent content, from heirloom upgrades, to Scouting Map toys, and a different Bind on Account token — the Traveler's Anima Cache — which allows you to freely transfer Anima between your characters, in chunks of 1,000 Anima at a time, without any loss.
All in all, patch 9.1.5 is possibly the best patch I've ever seen when it comes to improving alt gameplay.