What customizations would you like to see come to World of Warcraft next?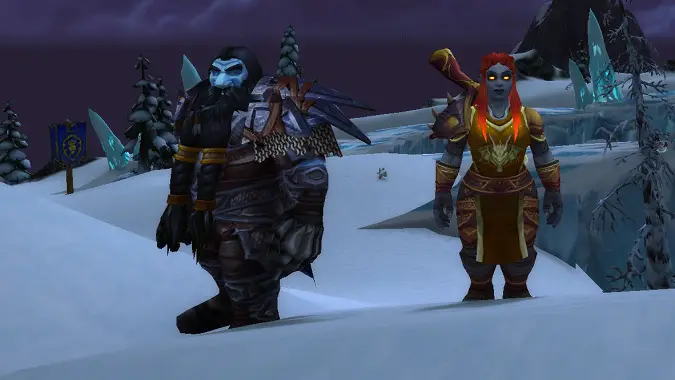 Our long Azerothian nightmare is over: We can play Dark Rangers now. The release of patch 9.2.5 for Shadowlands has fulfilled a dream held almost since the beginning of World of Warcraft — presuming you didn't want to use these new cosmetic options on a Death Knight or Demon Hunter. And while in the grand scheme of things it's a minor addition (one eye color and one skin type), it's something making a lot of players happy, and I imagine Death Hunter Moorgoth is over the moon too.
Dark Rangers aren't the only new customization options we got during Shadowlands; the expansion started off with a whole slew of options, and after disappointment at the news we wouldn't get any more in Shadowlands, the developers reversed course and gave us a whole new bunch for Allied Races in patch 9.1.5. Of course there's always more that can be added to the game, so what should we hope for in Dragonflight?
The quest chain to unlock Dark Ranger appearances was actually a reminder of some options we could receive. I don't know if they'll ever go so far as to let us create characters with the appearance of Calia Menethil, but it would be a nice option. More realistically the Forsaken I was disguised as in the quests would've been better off de-hunchified (in my humble opinion), as would Tauren and the original male Trolls — so here's hoping we can get them all to a spinal surgery center before patch 10.0.
While more variety in adornments and tattoos are always desired, what would really be interesting are choices that essentially change the character to a new race like the Dark Ranger options do. At the top of my list would be the various Northrend Dwarves we fought or allied with in Wrath of the Lich King — granted an Iron Dwarf customization doesn't really make sense, but a Frost Dwarf one does! Even Earthen from Bouldercrag's Refuge may have made their way down to Stormwind to offer their services.
What other options would you like to see? Would you want more races to have options that essentially make them a new race, or do you think those should be saved for Allied Races? And what about Skinny Kul Tirans? If we're getting body options for Dracthyr, why not other races — I mean, besides the vast amount of work that is likely required to implement, but still — why not?