Rendle's strange story continues in Hearthstone Battlegrounds, but we're worried our friend is going down a dark (yet fashionable) path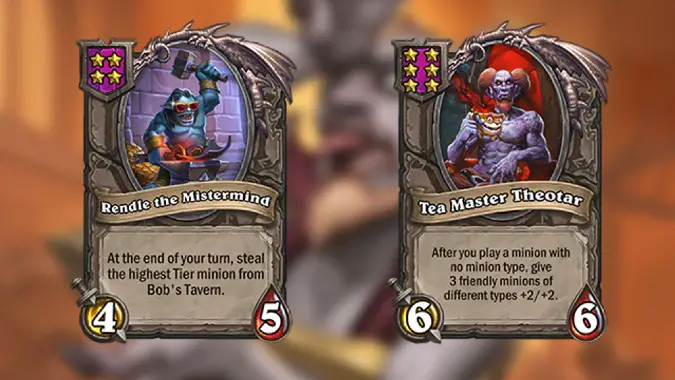 Rendle proves that you can't keep a good Dredger down. (At least we presume he's a good one at this point.) Dredgers were mostly nameless servants in Shadowlands, but Rendle was one that many players loved, and who kept popping up in fun ways. And now, he's popping up in Hearthstone Battlegrounds as Rendle the Mistermind.
For World of Warcraft players, Rendle is practically an old friend: he was there to greet Maw Walkers when they first entered Revendreth, and when they stormed the stormed Castle Nathria, he he was there to help them (and help himself in the process). He was a repair vendor, helping players keep their armor and weapons in good working order after failed attempts to kill Denathrius and his allies. As the expansion went on, we saw his wealth grow: the piles of gold started building up around him in the foyer of Castle Nathria as he raked in cash from players in need of repairs. Rendle came with us to Korthia, too, as a quest giver. He flaunted his wealth, wearing a pair of notoriously pricy Rhinestone Sunglasses and handing out wheelbarrows of gold for quest rewards.
But Hearthstone picks up story where World of Warcraft leaves off with its alternate version of Shadowlands in the Murder at Castle Nathria expansion. Here we see Rendle wearing his sunglasses, with his pile of gold in the background, ready to help us out in the new environment of Battlegrounds.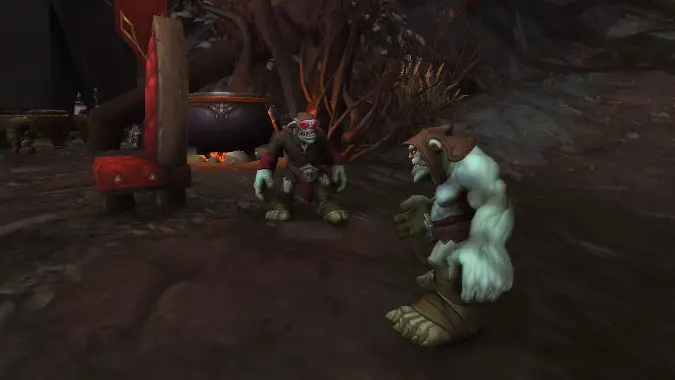 So what's Rendle up to in Hearthstone?
It may not be canon in WoW, but we're still seeing character development for Rendle. Back in Revendreth, Rendle was already showing that he thought himself above other Dredgers. At the Ember Court, he would say this:
Gotta say, it's nice havin' dredgers wait on ME for a change.

<Rendle smiles proudly and sticks out his chest.>

Yeah, ol' Rendle's finally movin' up in this mucky-muck world.
We're getting a lot more of what he's about in Hearthstone. This is his ability in Battlegrounds:
At the end of your turn, steal the highest (emphasis mine) Tier minion from Bob's Tavern.
He's skimming from the top, and only accepts the best. The Mistermind has risen above the common Dredger, as seen by his fancy rhinestone glasses and the pile of gold around him. Rendle may be a creation of Revendreth, but there's nothing necessarily evil about him. Every Battlegrounds card needs some kind of useful ability, so why not have him swiping the very best minions from Bob's Tavern? 
But maybe it's something more suspicious than that, as the announcement for the card suggested:
Rendle the Mistermind is quite suspicious. Whenever you end the turn with this minion in play, minions start disappearing from Bob's Tavern! One could make a pretty penny with those ill-gotten gains.
Has Rendle elevated to kidnapping for profit? This may be a dark turn for the character.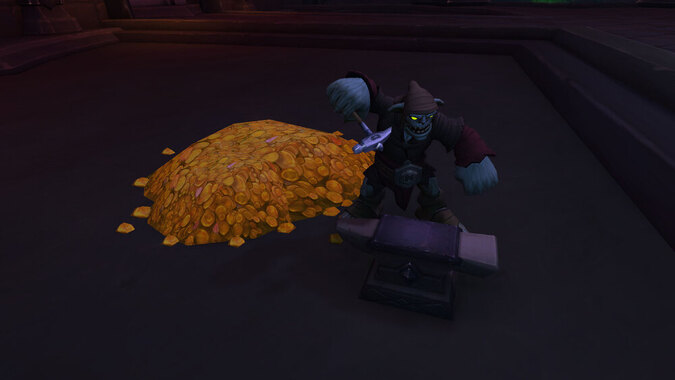 How can we help our (maybe) friend Rendle avoid this dark path?
This is not to say that Rendle is definitely heading towards becoming a big bad villain in the future. But plenty of characters have started as allies and then turned against us in the past. But maybe we can avoid this with the power of friendship! Here are my suggestions:
Become Best Buds with Rendle at the Ember Court. Make friends!
Keep inviting him and Cudgleface to the Ember Court, even if Best Buds. You're friends, right? Friends invite each other to parties.
Recruit Rendle in Hearthstone Battlegrounds. Make sure he knows that you're still friends, even in this alternate world.
Raid Castle Nathria in Season 4, and repair a lot. A lot! [Ed's note: you'll probably do this anyway.]
With this, Rendle should feel that he is well-liked, and perhaps he won't feel the need to steal new friends from the Tavern. But after players leave the Shadowlands and move on from this updated Battlegrounds, we may run into more problems. When Rendle starts to feel abandoned, will NPCs start disappearing again? And that would be the cue for a sequel expansion into the Shadowlands in which Rendle, rather than Denathrius, is the boss that we have to put down? If so, there will inevitably be a lot of gold spent on repairs to defeat him… but he'd be certain to drop a lot of gold.
But until then, we can admire Rendle's strange journey through the Shadowlands… and enjoy having him on our side in Hearthstone Battlegrounds.