WoW
Nov 22, 2022 10:00 am CT
Want the Turkey Crittershape at Pilgrim's Bounty? You are what you eat!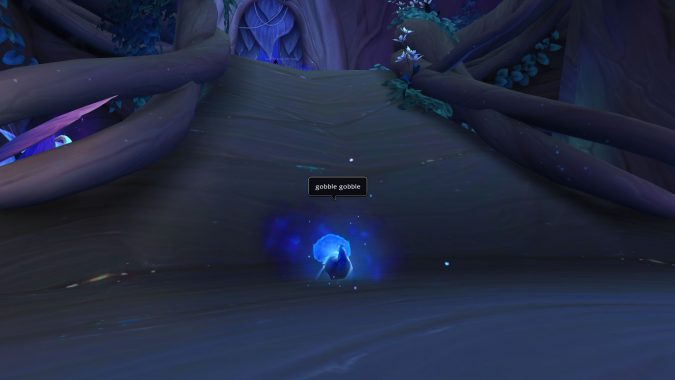 Shadowlands patch 9.1.5 expanded the popular Soulshapes feature for members of the Night Fae Covenant by adding a new type called Crittershape, and now they're getting into the Pilgrim's Bounty holiday spirit. Crittershape allows you to roam a rested area as a squirrel, cat, or any of the other various small soulshapes we've seen NPCs in (I am particularly fond of the Saurid Crittershape myself). Pilgrim's Bounty added another Crittershape to unlock: a Turkey Soul — found, naturally, after eating turkey.
To get the Turkey Soul, the first thing you'll need to do is find a bountiful table, located outside all the major faction capitals and in Shattrath — note that if you're in the post-Battle for Lordaeron phase of Tirisfal Glades you'll need to speak to Zidormi to see the past when tables were available, and of course for Darnassus you'll need to visit Zidormi in Darkshore to phase before the Battle of Darkshore otherwise the city is inaccessible. Some guides mention that tables are available in the minor cities, but those appear to have been removed.
The bountiful tables themselves have five chairs that you can sit in, each chair corresponding to one of the five foods of the feast: Turkey, Cranberry Sauce, Pumpkin Pie, Stuffing, and Sweet Potatoes. If there are many people at the table, you can pass the different dishes around (press 1 to do so) so that you can eat without moving; if you're at a table by yourself you'll need to move from chair to chair. Even if you're solo, you may want to pass the dishes around to make the final step for the Crittershape a little easier on yourself.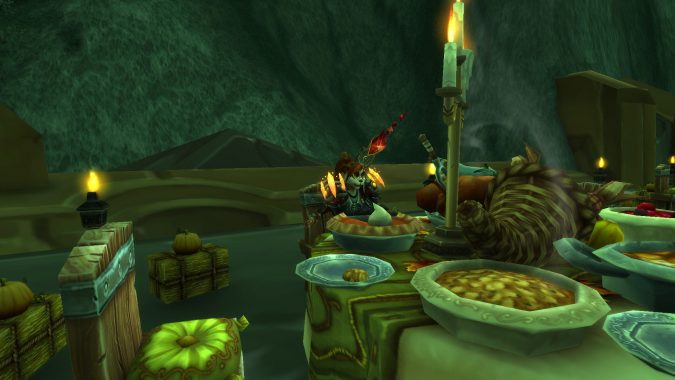 Pass the stuffing, please
The first thing you'll want to do is eat five of each food, this gives you a reputation bonus buff called the Spirit of Sharing. If you're on a newer alt, you can pick up the quest Sharing a Bountiful Feast from one of the nearby Bountiful Feast Hostesses; completing the requirements for the quest will alert you when you've eaten enough to get the buff (one of the annoyances of the vehicle system for the bountiful tables is that you can't see your own buffs, only those of the chair you're in, so you can lose track of what you've eaten).
After you've gotten the Spirit of Sharing, you'll need to eat at least one more of each dish — don't eat 5, though, as that will remove the individual food buff and give you a Well Fed buff instead — and as before, either you'll need to move from seat to seat to do so, or if you're at a crowded table the food can be passed around. This is also where passing things on your first circuit makes your life a little easier, and you can eat all the dishes from one chair. Getting up from the chair with the five different food buffs and the Spirit of Sharing buff will automatically trigger the Turkey Soul quest for you.
Note that of course you need to be a member of the Night Fae Covenant to receive this quest, but you do not need to be level 60 or have spoken to Choofa to turn on Crittershapes to obtain it. Return to Choofa to turn in the quest, and you can now choose to be a turkey any time of the year. Of course, Azeroth turkeys are like domesticated turkeys on Earth, and therefore you can not fly when in this form.
Originally posted November 24, 2021. Updated November 22, 2022.