When is the WoW Dragonflight patch 10.1.7 release date?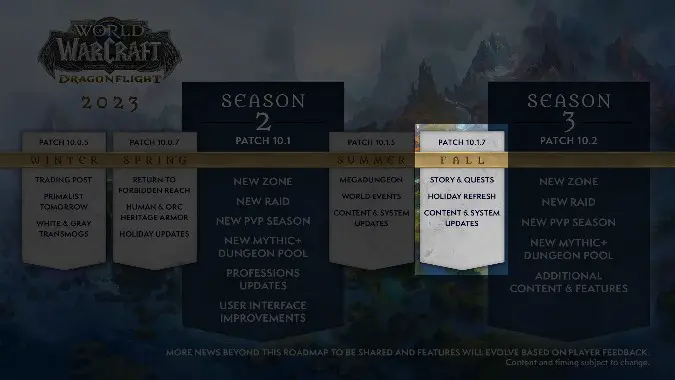 The World of Warcraft development team has announced an ambitious patch plan for Dragonflight in 2023, with patch 10.1.7 the fifth of six patches scheduled to go live before the end of the year and the final patch of Season Two. While patch 10.0.5 is expected "early next year" the only additional guidance as to when we should expect to see patch 10.1.7 is that it should arrive during the season of fall — which doesn't limit by much as it's a three month window. That said, mid to late September is the most likely time for patch 10.1.7 to go live in order to complete the six patch plan.
Patch 10.1.7 is the second of the new X.X.7 patches in Dragonflight. Similar to the X.X.5 patches from prior expansions, these smaller updates will provide new questing and story content for players. Not much else is known about the content of patch 10.1.7 yet, but we do know it has the second of two planned updates to in-game holidays.
The key determiner of the release date will be the amount of time on the PTR for each patch; even with a future patch deploying to the PTR immediately after a new patch goes live we should still expect 5-8 weeks of testing, maybe even longer for the major patches. In addition we should expect each season to last roughly six months as that matches the desired expansion release cadence of every two years with the expectation that there will be four seasons, with the fourth season a "fated" season like in Shadowlands.
Patch 10.1.7 should be hitting the PTR shortly after patch 10.1.5 goes live. The planned release date for this patch is likely driven more by the desire to make sure patch 10.2 arrives in a timely manner before the end of 2023 rather than the release of earlier patches, so I'm expecting the designation on the road map of "Fall" to not be literal. There is also the promise of holiday updates in this patch, so the question of Brewfest changes is important because that holiday starts the week of September 19. Of course, there may not be any changes for Brewfest that would require an earlier patch, but I'm still expecting patch 10.1.7 to go live the week of September 12.