Breakfast Topic: What new Heroes Halloween skins would you like to see?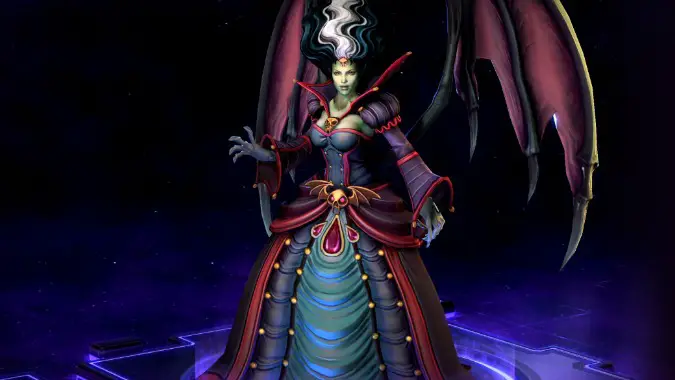 With a night of Trick or Treating coming up this month, you have many choices of Heroes skins with a Halloween theme. Countess Kerrigan, Skelethur Abathur, Harlequin Nazeebo, Vampire Slayer Valla, and, well, Leoric's basic skin can be a frightful combination. Looking for a fun Halloween group? You've got Kandy King Muradin, Roller Derby Nova, Bikini Stitches, Pajama Party Lost Vikings, and Luxorian Monkey Brightwing. But what if you could design your own custom Heroes Halloween skin?
On the horror side, I wouldn't mind seeing a Frankenstein Leoric skin with a burning pitchfork for a weapon. Or Black Widow Zagarra that rolls out black widow spiderlings instead of banelings. Heck, even a mummy-themed Stitches that throws rolls of bandages instead of a hook to snag his opponents.
On the lighter side of Halloween, how about a Molten Corgi Rhegar with flaming lava bolts? Iron Chef Illidan with giant Ginsu knives and a white chef's outfit? Sumo Wrestler Chen? Disney Princess Li Li? Paul Bunyon Rexxar with his blue ox? I can do this all day people, but what I really want to know is which fun holiday themed costumes would you like to see this spooky month?