Heroes of the Storm free hero rotation and sales for December 1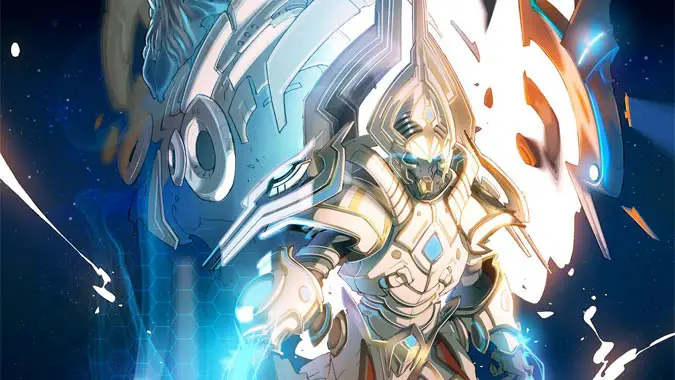 It's that time of the week again. Heroes of the Storm discounts many heroes and skins as well as rolling out seven new heroes you can play for free during the week. This week Blizzard's Black Friday mega sale continues, offering all heroes, skins, and mounts at a staggering 50% discount. The only real problem, of course, is deciding what to buy.
For this week's rotation, we're getting our first crack at Artanis, so if you've been wondering how this new (or at least new-ish) Warrior feels in action, now's your chance. Now, on to dig into this week's rotation (and, of course, the team's requisite poetic efforts).
This week's poetry contest has more entries than usual. Let's start with Mitch:
Anub'arak just won't stay dead,

Gazlowe fires lasers at your head,

Nova snipes,

Malfurion stops wipes,

And Artanis will use his shields to shred.
And Anna:
greenest magister

moss roots, tree talent

restores mana

seems strong

(free soon)
And finally Matticus' slam poetry effort:
Mal-FURY-on. Druuuuid. Calls the ELE-MEEENNNTS..
So who won this week? (And is Matt's one-line effort even in the running?) I'll leave it to you to decide, but in the meanwhile here's this week's free heroes:
If you need a starting point, check out our Assassin guide, Specialist guide, Support guide, and Warrior guide for quick rundowns on each hero.
Now let's dive into the team's thoughts on this week's lineup:
Mitch: Anub'arak is one of my favorite warriors in the game. I love most of the Warriors, but he's in my top three. Why? Because he's incredibly durable (yay chitin?), he can still deal plenty of damage, and his burrow/spike combos not only make moving around on him really fun, they're also a great way to stun and trap enemies. If you time/aim his burrow well, it can make all the difference — escaping to safety (either through trees or behind towers), catching up to and stunning escaping enemies, or just getting yourself to a team fight before it's too late. He's an excellent Warrior hero, and the build options still make him somewhat newbie friendly if you don't want to focus on his beetles. The only downside is that he's pretty much limited to skill shots, so if you're not typically the best at aiming those, he might not be your hero.
Anna: As someone who generally hates Warriors, building Anub around his beetles helps with his survivability, just in case you do miss all his skill shots or dive too deep.
Mitch: That's true, a beetle build can add massive damage, and those suckers will block any tower focus or skill shots from hitting Anub'arak. They can be very strong. Personally, the beetle build has never been my favorite, but it's definitely got a lot of advantages.
Anna: They also give him lots of leech, which is usually my issue with playing him. I'm all, WHEE LOOK AT ME I'M ANUB'ARAK and go sailing past my support and into the enemy team.
Matt: All those noob Anubs.
Mitch: Anoobs'arak?
Anna: Anoob.
Mitch: DON'T BE ANOOB'ARAK, KIDS! BE ANUB'ARAK!
Anna: Also, if you have that issue with Anub, you likely may with Artanis as well. They're oddly similar in that way. Lots of running into the enemy team.
Mitch: Oh man, Artanis. He quickly moved his way into my top three (which I'm realizing may have four or five Warriors). He is a heck of a lot of fun, but the most important thing to understand when playing him is do not run away at low health!!! It will likely get you killed. Artanis is built around his trait: he can survive an incredibly long time at low health just by autoattacking to lower his shield cooldown. You may feel like you're at low health, and it is still risky, but staying to fight to the very end is almost always the better option unless your towers are very close by.
Dan: I saw a video over the weekend where a Nova stood by stealthed as the enemy team took down a golem. When they had succeeded they were all at very low health and she just sniped them all and stole the golem.
Mitch: Nova is a lot of fun, but the biggest mistake new players will make with her is trying to be up in the action as often as possible. She's almost the opposite of most heroes, whose job it is to be active at all times. Her biggest advantage is her ability to gank enemies. She's best used as a roamer, ready to strike laning enemies who think they can take on your allies. I tend to build her for high, slow autoattacks and increased damage out of stealth for ultimate ganking. But, as I said, this results in a different playstyle than most are used to. I typically end up with lower siege damage than I'm used to, in place of high hero damage (if I'm doing my job correctly). She's very squishy though, so if you're going to gank either make sure you can finish the enemies off or be ready to use her decoy as a distraction while you run away and try to regain stealth.
Anna: I like that they paired Malfurion with Tassadar, because even with boosts to his healing capability Tass is still better as a support-y DPS. Malfurion is a very solid healer and misc support even if I hate his face as a character.
This week's freebies and sales should go live on Tuesday afternoon at 2:30 PST / 5:30 EST — until then, we'll see you in the Nexus!